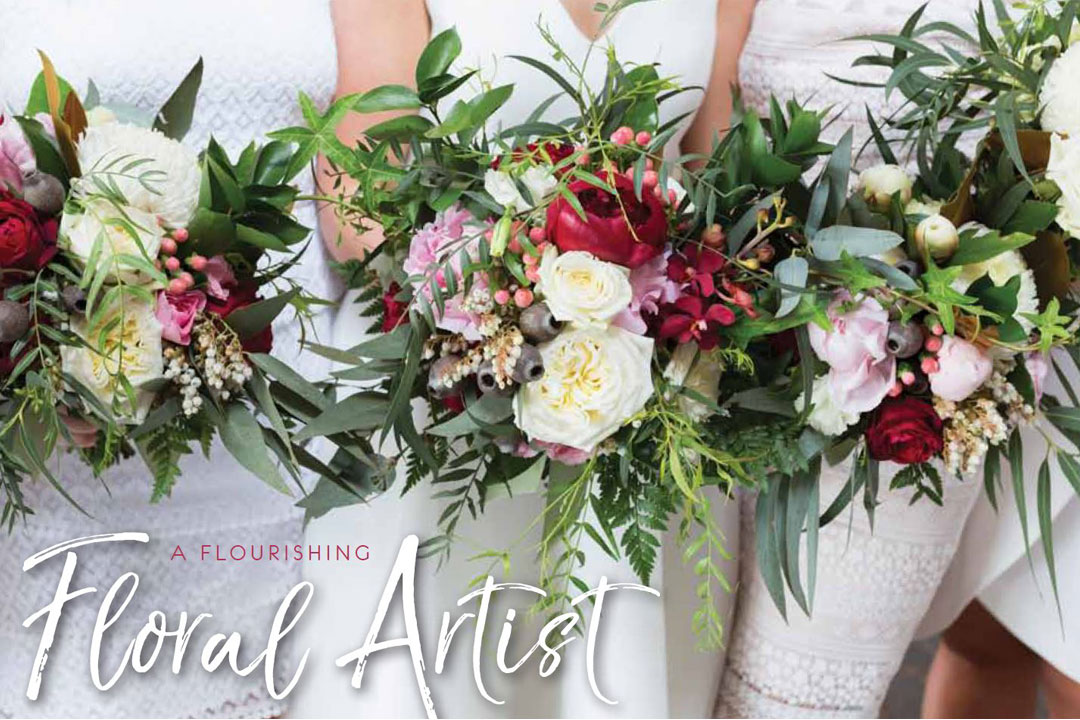 Dayne Robinson, the director of Dayne Tyler Floriart and third runner-up in Flowers Victoria's Melbourne International Flower & Garden Show competition, catches up with Tijan Biner to discuss her inspirations, future plans, and how she's grown to become one of Melbourne's most sought-after florists.
Dayne Robinson is a florist with the soul of an artist. Focussing on using a natural and unstructured design technique, her professional, yet relaxed approach is what she prides herself and her business on. When the time came to bring her vision for Melbourne International Flower & Garden Show's (MIFGS) Wedding Table Competition to life, all Robinson had to do was think of a wedding.
"Naturally, the word 'love' came to mind," she says. "I always relate the word 'love' to the relationship between the sun and the moon. My thoughts then headed towards the sun, constantly setting and rising, [so] I decided to play around with the colours of the sunset."
Her design, aptly named 'Ombré Sunset', was awarded third place in the people's-choice competition, where 17 wedding stylists and florists from across the state were allocated a section of an 18m timber-topped table on which to compose their most striking arrangements.
"Ombré is very on trend in many aspects," Robinson says. "I've even seen table linen and wedding dresses with beautiful grey or soft-pink ombré tones down the bottom, so… why not flowers?"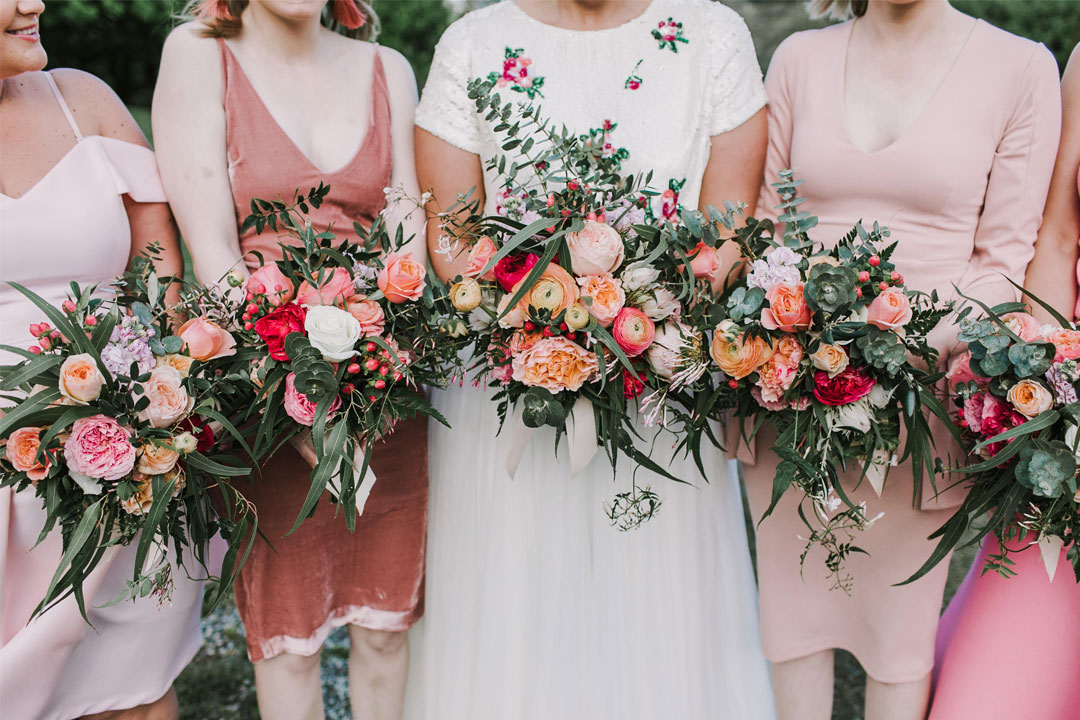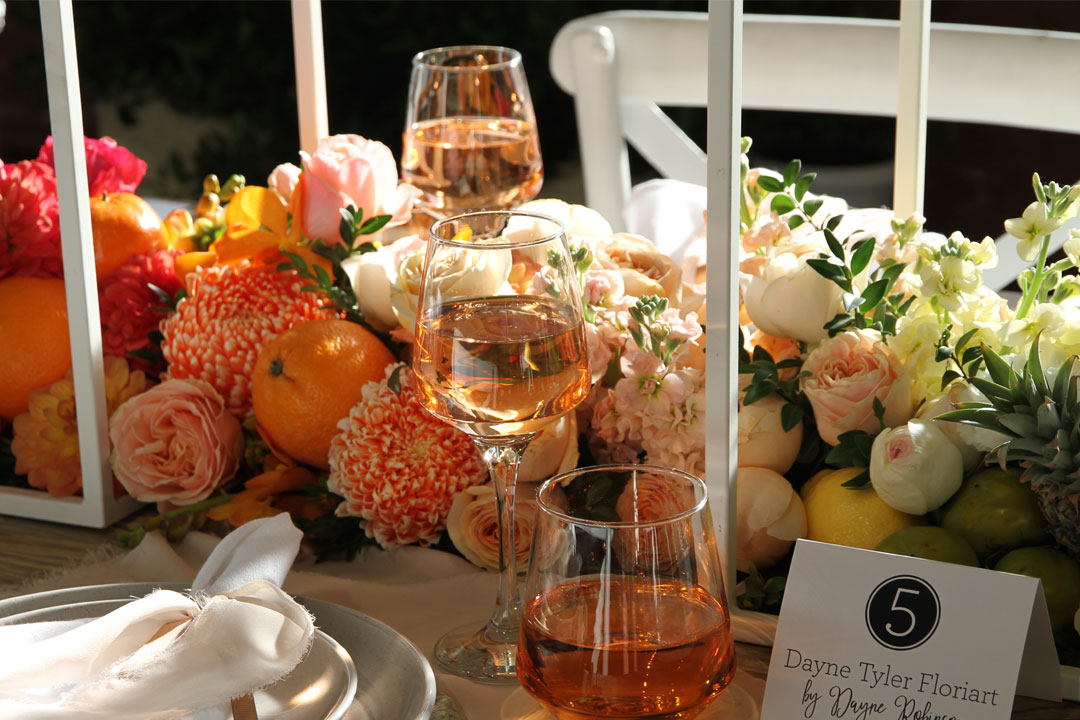 The arrangement – a colourful concoction of dahlias, stock, lisianthus and phalaenopsis orchids, which were imported from Vietnam – was a magical sight to behold. Tall table stands were even incorporated into the display to "create a sunset cloud above the guests' heads". However, Robinson didn't stop there. "If you look closely, you'll notice clusters of fruit throughout the design, such as dragon fruit, apricots, mandarins, oranges, lemons, persimmon branches, and pineapples," she says. "These were used to create a funky and individual feeling in the design, which is what I pride my business on."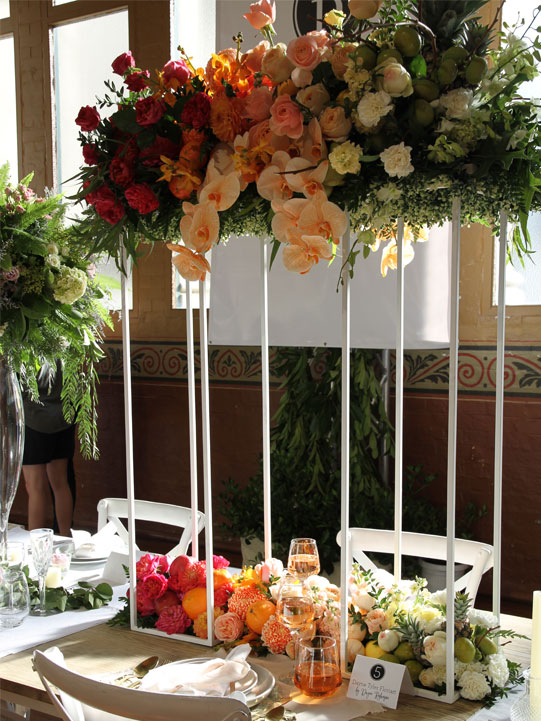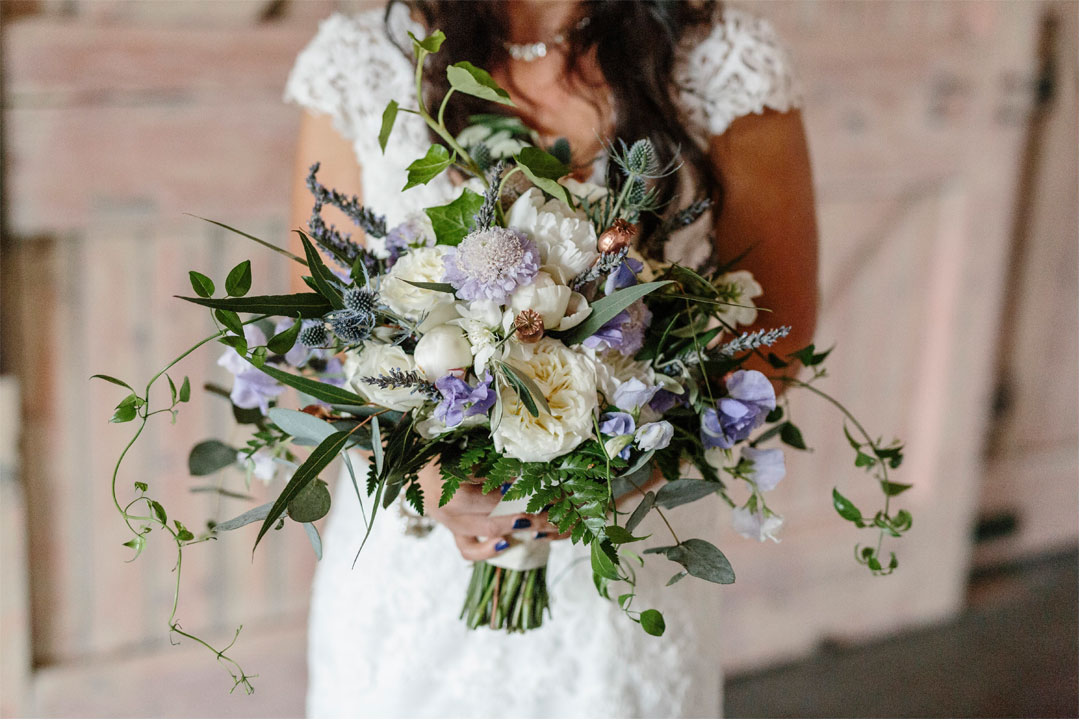 Robinson's debut into floristry began just over 13 years ago, and she's since built a reputation for herself as one of Melbourne's most innovative floral designers. "I fell in love with the atmosphere of everything floral," she says. "From a very young age, I knew that floristry was going to be a huge passion for me. I made a plan to build up as much experience as possible in all areas of floristry before going out on my own. I started teaching classes [at] a well-known college, I [entered] many competitions, and I enrolled to do my Certificate in Floristry (Business)."
Just two years ago, the multi award-winning florist founded her own company, Dayne Tyler Floriart, which has already seen remarkable success. "I started my business… with the determination and drive to share my passion for flowers with as many people as I can," she says. "People don't realise the strength that a single flower can possess. I express myself through my floristry, and I love the fact that I can do that and create such an impact on each of my brides' special day."
From representing Australia at WorldSkills in Germany, a global hub for skills excellence and development, to her third-place ranking in the Flowers Victoria Wedding Table Competition, it's safe to say Robinson has competed in her fair share of contests. "The competitions really opened doorways for me," she says. "I found [they] helped me push my creativity to the limits and… learn how to solve problems quickly, which [is] really helpful [when] working in an industry that is based around the seasons of Mother Nature."
Although running a business isn't as glamorous as it may seem, Robinson makes the most of each day she's been given – none of which are ever the same. "Every day is completely different, which is what I love about this business," she says. "Most of the time I'm behind a computer replying
to emails from my amazing clients, creating detailed quotes for future clients, designing mood boards, and keeping my social media accounts up to date." On days when she's driving to and from growers and wholesalers, her six-year-old Siberian Husky, Mia, sits front and centre to keep her company. "Mia always jumps in the car and visits [suppliers] with me, getting very spoilt with pats and treats," she laughs. "She's become an expert at sniffing out the freshest flowers and the best colour schemes. She's my little apprentice."
Regardless of her busy schedule, Robinson's most favourable days are when she's able to unleash her creativity. "The few days a week when I have flowers in my hands are when magic happens," she says. "That's where I'm in my true happy place!" Robinson is proud to be perceived as one of Melbourne's leading lights in the floral industry and longs to share her knowledge with aspiring florists. "I love to push the boundaries of the floral industry, and there are many plans for this in the future," she says. "I plan on running informative workshops, working with the natural shape and form of wildflowers to create 'from the garden' vegetative designs. I would love to move Dayne Tyler Floriart to a farmhouse, and specialise in growing our own flowers and foliage on site."
Imposing no rules on her art, Robinson's vision isn't clouded by popular trends or what other florists are doing, which gives her and her company a serious edge over the competition. "I am constantly on the lookout for ways to better myself creatively," she says. "My goal is to make everyday life extraordinary."
Photography Credit: 
Dan Soderstrom Photography, Lillie Thompson, Anitra Wells Photographer, Kylie Knight Photography