You've already found the one, so now it's time to find the dress! Jacinta Walsh speaks with Tanya Didenko, head designer for Tanya Didenko Bridal Couture, about why choosing a made-to-measure gown is an investment in itself. 
If you're not the type of bride who has a dedicated wedding Pinterest board, or are an avid watcher of Say Yes to the Dress, then it can be difficult to know where to begin when it comes to shopping for your wedding dress.
The process of selecting your gown is heralded as one of the most exciting experiences of your life, and while it can be, it's also pretty exhausting. From changing in and out of heavy dresses to feeling disheartened by the amount of dresses you have tried on without success, the experience can be physically, mentally and emotionally draining. But that's not to say the process isn't worth it for that final 'wow' moment.
On the other hand, choosing to go with a couture designer often alleviates a lot of this pressure. If you're the type of bride who knows exactly what she wants, then this may be the perfect process for you. A couture gown will leave you with a unique dress that is tailored to your every whim, so it's no wonder more brides are beginning to choose couture over off-the-rack gowns.
FINDING YOUR STYLE
Before you start organising anything, it's important to sit down with your partner to create a wedding timeline. In doing so, an ideal date should be set in which to work towards. A year before this date is an ideal time to start shopping for a wedding gown, however it's handy to have some other elements set in stone first, such as your venue. Your venue will most likely dictate the style of your wedding dress and ensure that everything is both practical and cohesive.
With this in mind, you can begin to gather inspiration. Compile a collection of images, either on Pinterest or in a scrapbook, to show your seamstress. Another great way to find inspiration is to look at the clothes you already own. Think about the silhouettes that suit your body shape, as well as what you feel most comfortable in.
The next step is to piece together what you like about the different styles of dresses you have collected. Think about the individual elements of a wedding gown – do you want a train? Straps or strapless? What materials do you like? What colour do you prefer? Do you even want a dress at all? Didenko, who has been a couturier for years, suggests arriving at your appointment with plenty of inspiration. "It helps if the bride offers insight into what kind of style she's after prior to the consultation," she says. "The whole concept of her dream dress is very helpful as it allows me to build on this idea and produce a unique artwork."
If you're struggling to find a picture of a dress that speaks to you, come up with three adjectives to describe what's in your mind, which will give your seamstress something to work with.
BOOKING BREAKDOWN
As previously mentioned, it's best to book an appointment roughly six months to a year before the wedding. "This allows us to provide the best possible couture experience," Didenko says. "In saying that, I have made a dress in six weeks with brilliant results!" However, don't take this as encouragement to leave dress shopping until the last minute. Just know that if you're pressed for time, a bespoke gown is still an option if you find the right designer. "The more time you allow for a dress to be made [or altered], the less stress you will experience," Didenko adds.
When booking an appointment at a bridal boutique, be sure to ask questions that will save you time on the day, such as if the store stocks dresses in your size, its price range, and the length of the appointment. When you arrive at the store, you will be assigned a consultant who will work with you to find your dress. If you have booked one or more appointments at separate stores, it's best to dedicate an entire day. For a more personalised service, try organising your appointment between Monday and Friday, as there are usually less bookings on weekdays.
CRUNCHING THE NUMBERS
Your budget should be non-negotiable. Before you arrive at your appointment, decide on a maximum amount you wish to spend on your dress. On average, brides who buy off-the-rack gowns tend to spend approximately five per cent of their budget on a wedding gown, while those who opt for couture will spend around 10 per cent. It's also important to shop within your means – don't shop somewhere that you know you can't afford. So many brides commit the cardinal sin of trying on a dress that is out of their price range. I know it's nice to feel expensive, but there's no point falling in love with a dress that you can't afford. You'll only be heartbroken in the end.
UNDERSTANDING YOUR




UNDERGARMENTS
"Most bridal gowns, or any gowns for that matter, are made with a corset," Didenko says. "This usually negates the need for a bra since the support provided is more than adequate." However, she still advises brides to bring along a nude strapless bra just in case. "Seamless underwear is a good choice under a bridal gown, and will represent how the dress will look on your special day."
It's also a good idea to bring along a pair of heels. If you haven't already bought the shoes you will be wearing, arrive at your appointment with a pair similar to the height that you plan to wear – this will give you an idea of where the dress will fall to. A good rule of thumb, which your consultant will share with you, is that the dress should just brush the floor. Wedding gowns are typically longer in length than the average person, and can of course be altered in time for the big day.
LEARNING THE LINGO
Before stepping into a bridal boutique, it's essential to know the difference between a couture and off-the-rack gown. "Couture is made to measure," Didenko says. "They are one-off pieces specifically made to suit the bride's personality, unique style and flare. Off-the-rack pieces tend to be mass-produced, unoriginal and require less work for those on a tight budget." In recent years, more brides have been turning to couture designers to create their wedding gown. The best part of choosing a custom gown is
A couture appointment, however, is always personal. "I have found that morning appointments tend to be best," Didenko says. "Our minds are still fresh, ideas are free-flowing and the sunshine can make for a pleasurable experience." However, with everyone's busy lifestyles, she knows this isn't always possible. "Night owls tend to flourish during the evenings. I will always accommodate to the wide variety of women that come through my door!"
IN GOOD COMPANY
When it comes to your entourage, it's better to keep it small. Sure, your cousin and neighbour may really want to be there, but too many voices can confuse you. Narrow it down to the people whose opinions matter most to you – perhaps your mum, best friends or a sibling. With that being said, don't be afraid to go dress shopping by yourself. After all, it's your opinion that matters most.
The store in which you choose to shop will also dictate the amount of people you can bring along with you. Some may have large private change rooms, or if it's a smaller boutique, it may only allow for a maximum of two guests.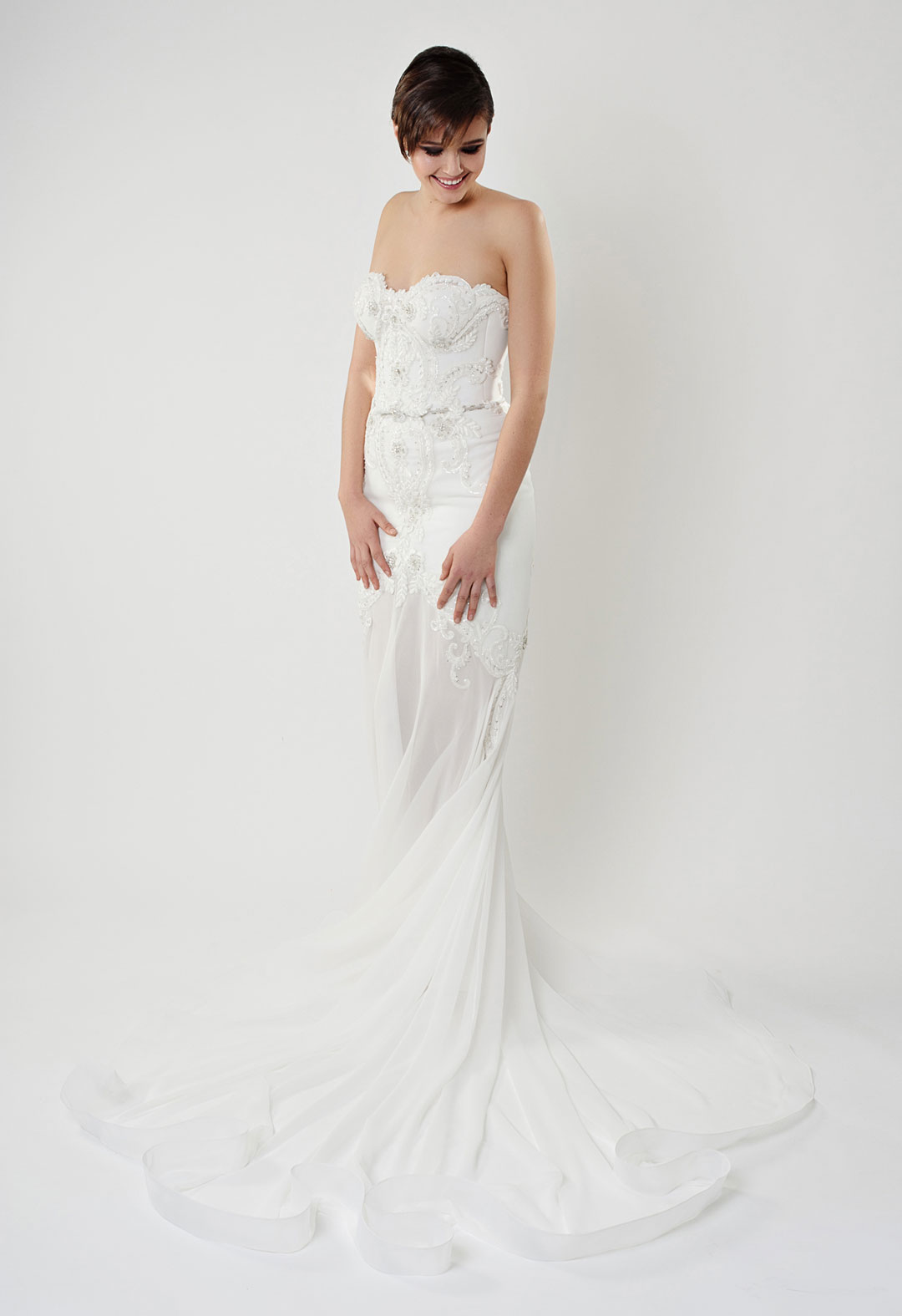 knowing that you will never wear anything like it again. If you're willing to pay more for a unique piece, choosing couture means not having to make sacrifices or compromises. Didenko says you'll also be able to take control of how you look on your wedding day. "All of my dresses are custom-fit, as I take measurements [throughout the appointment]," she says. "All unique pieces are tailored to the bride. I am proud to say that your size doesn't restrict your choices at Tanya Didenko Bridal Couture."
If your bridal boutique stocks sample gowns that are then made to order, keep in mind that you will need to allow time for the dress to be made to your measurements, which can take up to six months. Some stores also offer variations on their gowns, such as different colour fabrics or altered necklines and sleeves. Others will allow you to purchase select samples of floor stock, which you can take home with you on the same day. This is ideal for brides who have a short window before their wedding. Some orders can even be prioritised if your wedding is less than three months away, however this usually comes at a price.
GETTING TO WORK
In regard to couture appointments, the consultation begins with a sketch of a rough idea. "From there, I design a calico piece that brings the sketch to life and we watch the magic unfold through the process – a lot of pins are involved!" Didenko says. "Appointments are usually one-and-a-half hours, however this can depend on a great deal of things. This includes the detail the bride wishes to incorporate, through to the intensity of the project at hand – time really does fly when you're having fun." When trying on your collection of gowns at a bridal boutique, you may notice that the sizing is different to what you usually wear. This is usually as a result of international sizing. Do not buy a dress that is too small in the hope that you will lose weight before the wedding. If anything, buy a larger size – it's easier to make a garment smaller than to make it larger.
IN CONSULTANTS WE TRUST
Whether they are designing your gown from scratch or simply helping you find the perfect dress in the store, trust your consultant's advice! If they suggest you try something on, don't say no straight away. You'll often find that an average-looking gown on the rack will look amazing on.
When designing a dress, Didenko suggests that brides stick to one style. "Avoid jumping from one style to the other," she says. "This can lead to confusion and make it harder to stick with your decision. Trust your gut and let your designer work their magic. Designers in this industry have been perfecting their craft for many years, so it helps when a client places their trust in me – it displays a sense of respect, which is always appreciated."
As the planning stage comes to an end, the design process commences. "As all of my designs are custom made, the decision process can take a little time to perfect," Didenko says. Once the bride is happy with the initial sketches and has discussed all aspects of her gown, the construction can then begin." Working with a bride to create something as special as her wedding gown is a rewarding experience for Didenko. "Getting to know the bride makes it that much easier to construct a unique piece that complements her personality."
Choosing your wedding gown is an important decision, and entering into a creative relationship with a designer is no different.
"When a bride makes an appointment with me, the experience becomes very unique and personalised," Didenko says. "The time she spends with me is meaningful, and everything can be looked into with great detail. No intricacy will be overlooked during our subsequent consults. I love getting to know the bride during our time together." Whether you choose to create or buy your wedding gown, be confident in whatever you go with – you're sure to look beautiful either way!
Images courtesy of Tanya Didenko Bridal Couture.