As the saying goes, 'love conquers all' and for an industry which is reliant on uniting enamoured individuals, love once again prevailed. Despite the many challenges presented by COVID-19, the wedding industry has returned stronger than ever. The industry's remarkable resolve in a time of such turbulence can in part be attributed to humanity's innate and unfaltering drive for human connection and love. Here, Emma Warner Allen shares a tale of incredible tenacity, faith, and love by delving into the story of Vic and Robyn Horvatincic's incredible journey to wedded bliss.
Image Credit: Single Soul Wedding Photography and Videography
IT'S A LOVE STORY
Few love stories pull on our heartstrings like The Notebook, John Lennon and Yoko Ono, or Shrek and Fiona, and Vic and Robyn are no different – taking their rightful place amongst these legendary relationships. The couple met at Falls Creek while they were both working at the ski fields over the winter season back in 2011. Since then, the couple's strength has only been further cemented. Some seven years later, Vic got down on one knee surrounded by the white sandy beaches and tropical waters of Mala Mala Beach Club in Fiji, where Robyn tearfully accepted.
The couple initially envisioned spending their wedding and honeymoon extravaganza in Bali. With the help of Global Weddings Planning, the couple's dream day was meticulously organised, leaving the couple confident their dreams would be brought to life. However, the full force of the first round of restrictions came into place a mere two weeks before the couple's flights abroad – hampering their dream of saying 'I do' in beautiful Bali. Like many, the couple optimistically anticipated this would quickly pass. However almost a year later and tragically having lost a significant sum of money, the couple were unable to go to Winchester for a nice cold pint to wait for this to blow over, and instead elected for a beachside wedding in Melbourne.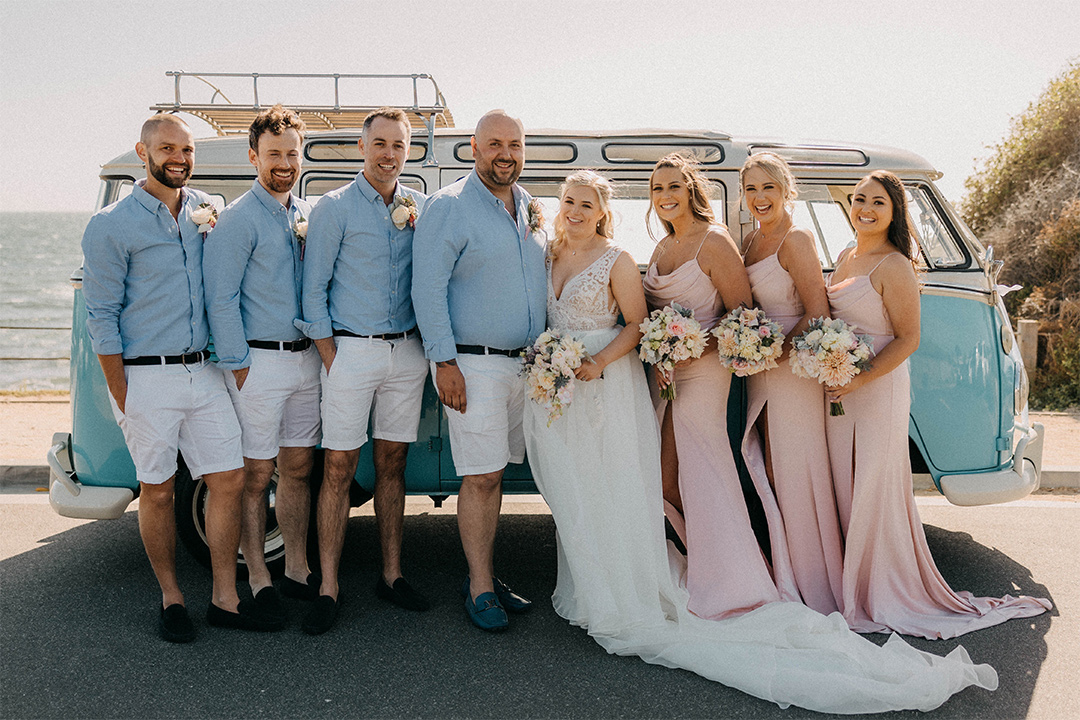 FROM SMALL BEGINNINGS
Having long filled the airwaves with characteristic Melbourne sounds, is iconic Melburnian, Byron Cooke. Despite almost a year elapsing since first being plunged into one of the strictest and longest lockdowns the world has seen, the impacts of COVID-19 still remain within society, even as we eagerly stride towards the complete easing of restrictions. Like Daniel Andrews sporting a North Face jacket, The Byron Cooke Show also signalled the start of something beautiful for Vic and Robyn.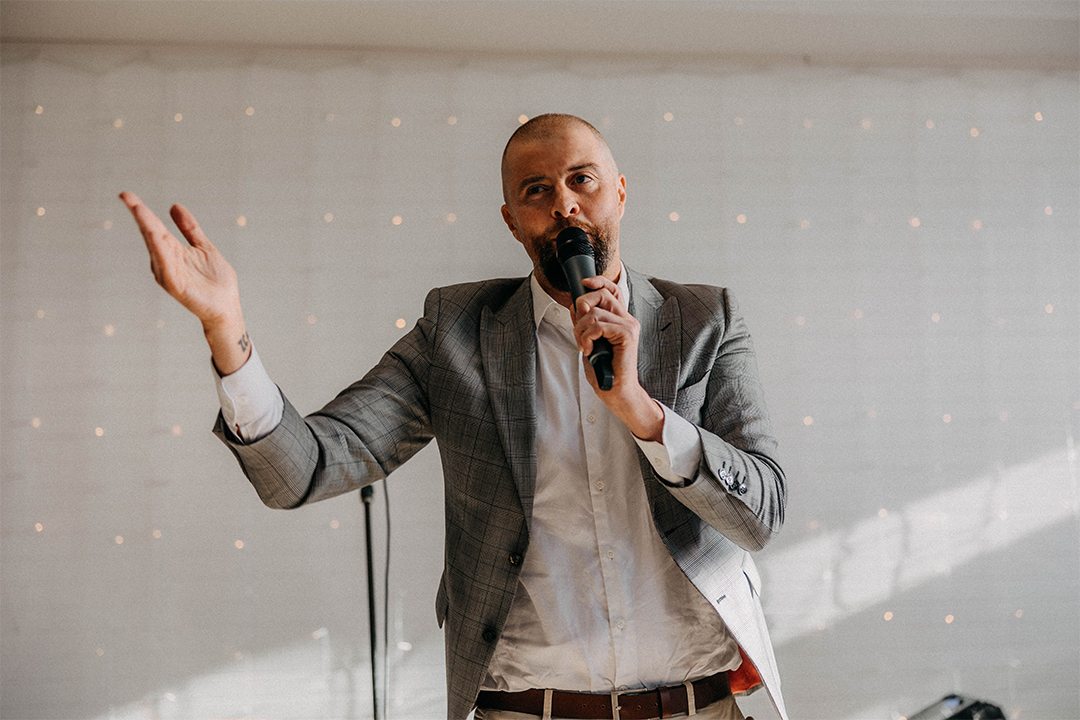 One of Byron's inaugural podcasts, 'Wedding Cashers', explored the difficulties presented to the wedding industry during the pandemic, as well as sharing the devastating experiences many couples encountered when attempting to plan a wedding during this turbulent time. The podcast effectively evoked a sense of optimism as the episode's industry interviewees rallied together to help Vic and Robyn's wedding come to life. If Jack Johnson is to be believed, "it's always better when we're together", and if COVID-19 were an Aesop's Fable, the moral would be that if we all collectively work towards a goal, anything is possible.
Byron Cooke was the first to volunteer his services for the happy couple, electing to MC the day's events. Shortly after, Dirk Fielding, publisher and founder of Melbourne Wedding and Bride, was inspired by Byron's generosity and the adversity Vic and Robyn had faced last year, offering Vic and Robyn to share their story in this very magazine, which will stand as a treasured keepsake for years to come. Mel Jacobs, also touched by Vic and Robyn's persistence in the face of hardship, completed the deal by offering her exceptional services as a celebrant – ensuring there was not a dry eye in the house on the day of the wedding.
WE ARE GATHERED HERE TODAY
The bride and groom were so excited that their wish of becoming husband and wife was finally happening, after a year of lockdown forcing the couple to reconvene their wedding plans multiple times, this day had finally arrived.
Keeping with a beach theme, the couple chose Green Point in Brighton overlooking Port Philip's glistening waters as the place to officiate their union. Light pink and white floral arrangements with pops of greenery beautifully complemented the natural, verdant surrounds. Vic wore a beautiful, matching boutonnière which stood out against his crisp blue shirt and white shorts, while Robyn looked ethereal in a beautiful gown by Pronovias. The dress featured an intricate lace bodice with a flattering V-neckline and flowing tulle skirt attached, creating a mermaid-chic look. The bridal party beautifully assimilated with the couple's chosen theme in dusty pink, cowl-neck maxi dresses and the groomsmen matched the groom with blue shirts and white shorts.
Mel made the day truly special and had the guests laughing, crying, and rejoicing with the besotted couple. Byron looked on from the crowd, ready to take over as the party moved from Brighton to True South in Black Rock where the celebrations continued. The couple partied the night away with their nearest and dearest, with Get Harry On Sax brightening the atmosphere by ensuring everyone was in high spirits and dancing the night away in the arms of family and friends
With so many special memories to choose from, the couple both struggled to identify the highlight of the day when posed with the question. But they both agree that being able to celebrate with their family and friends from all over the country will remain a cherished memory – even more so given the misfortune encountered while planning.
Vic and Robyn's remarkable determination and unwavering faith enabled this union to happen, alongside the generosity and spirit of Melbourne's wedding vendors – which will hopefully serve as an inspiration to other couples whose plans have also been disrupted. Although at times the process was testing to say the least, the couple's commitment to each other ultimately triumphed. United in love, the pair now step hand-in-hand into the second half of this year, ready to tackle whatever life throws at them.
WEDDING FILE
Bridal Gown: Fairytales Bridal Boutique, Nunawading | 03 9874 0033
Venue: True South, Black Rock | 03 9589 3194
Flowers: Flowers by Kathleen Kelly, Dingley Village | 03 9551 0089
Cake: Regnier Cakes, Braeside | 0407 361 029
Photography & Video Production: Single Soul Wedding Photography and Videography, Melbourne | 0432 021 448
Stationery & Bomboniere: State of Elliott, Melbourne | 0430 480 904
Hair & Makeup: Teri Weston Beauty, Moorabbin | 0435 353 016
Celebrant: The Ceremony Store, Melbourne | 0401 030 422
Transport: Samba Kombi Services, Dandenong | 0472 543 682
Services: Global Weddings, Rowville | 1300 763 776
Byron Cooke, Melbourne | www.byroncookeshow.com/contact