Alison Saunders Celebrant
Alison Saunders is a marriage celebrant who creates amazing, vibrant and outside-the-box wedding ceremonies. With more than 20 years of experience in service-oriented roles, she marries (pun intended) her professional attitude and strong organisation skills with her playful and easy-going personality, which brings out the best in each and every couple and individual ceremony.
A self-proclaimed lover of love, Alison adores telling her clients' unique love stories. Whether it's over a nice cuppa or a glass of bubbles, Alison loves having a chat, and will listen to your ideas to create the wedding ceremony of your dreams; all you have to do is give her a call!
Photography: Briars Atlas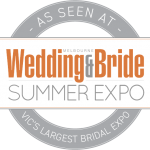 Alison Saunders provides three different packages, depending on the level of creativity and personalisation you are after. The Full Monty, priced at $1100, involves several face-to-face meetings so Alison can get to know you, the writing of the ceremony based on the stories and details you provide, provision of or assistance with vows if needed, a rehearsal, use of Alison's PA system on the big day, where she will work with your other vendors, and the preparation and submission of all the legal paperwork. Alison is also keen to incorporate any spiritual or cultural component you may want.
The An Affair to Remember package, priced at $770, involves a face-to-face meeting, a choice of ceremony content, provision of vows if needed, a follow-up phone call pre-wedding, use of PA on the big day, and the preparation and submission of all the legal paperwork. This is a more modest, cost-effective package, but will still result in a beautiful ceremony.
Alison Saunders also offers a 'legals only' option, priced at $440, with two witnesses, which she can provide if needed, and all the legal paperwork required if you simply want to tie the knot with no fuss.
Alison is happy to travel to whatever location you decide to marry. Travel fees may apply.