CHARMING, 
CHIC, AND
UNIQUE
When it comes to choosing a wedding venue, the options are endless. Getting the chance to explore all that Melbourne has to offer for your nuptials is exciting, but can also become confusing with so many beautiful sites to explore.
To make your decision a little easier, Catherine Doedens outlines a selection of stunning outer-Melbourne wedding venues to consider for your wedding day.
The Yarra Valley has an abundance of beautiful sites to host your wedding, from Inglewood Estate, to Ballara Receptions and the Riverstone Estate. These awe-inspiring venues surrounded by natural beauty perfectly pruned for your wedding, offer a gorgeous setting. Similarly, Autralia's leading event space Aitken Hill is only a stone's throw away from Melbourne's CBD, and offers a conveniently located, cutting-edge venue that will allow you to escape the city and celebrate your nuptials in style.
Here, Melbourne Wedding & Bride discovers the unique qualities and services that different wedding venues have to offer for an exceptional, tailored wedding.
Breathe in the fresh air and feel at home in the countryside at Inglewood Estate. Located in the heart of the Yarra Valley, and only an hour outside of the CBD, the estate's rolling hills and birdsongs will whisk you away as you get swept up in the romance of the day. Laced with history and charm, this venue boasts a gorgeous chapel covered in climbing green vines, surrounded by colourful gardens and a glittering lake. Soak up the atmosphere with an outdoor ceremony complete with white timber folding chairs and complementary signs or archways.
The ambient lighting in the chapel will make the stained glass windows glow under a high ceiling featuring exposed beams. Authentic chapel pews seat 110 guests, so you will be able to declare your love for each other in the presence of all your nearest and dearest in any weather, come rain, hail or shine. Burst through the rustic wooden doors of the chapel into the gardens, where the options for wedding photos among the natural scenery are plentiful. Savour your time capturing your first moments as newlyweds knowing that your guests are entertained in the reception venue on site, or at the chapel bar.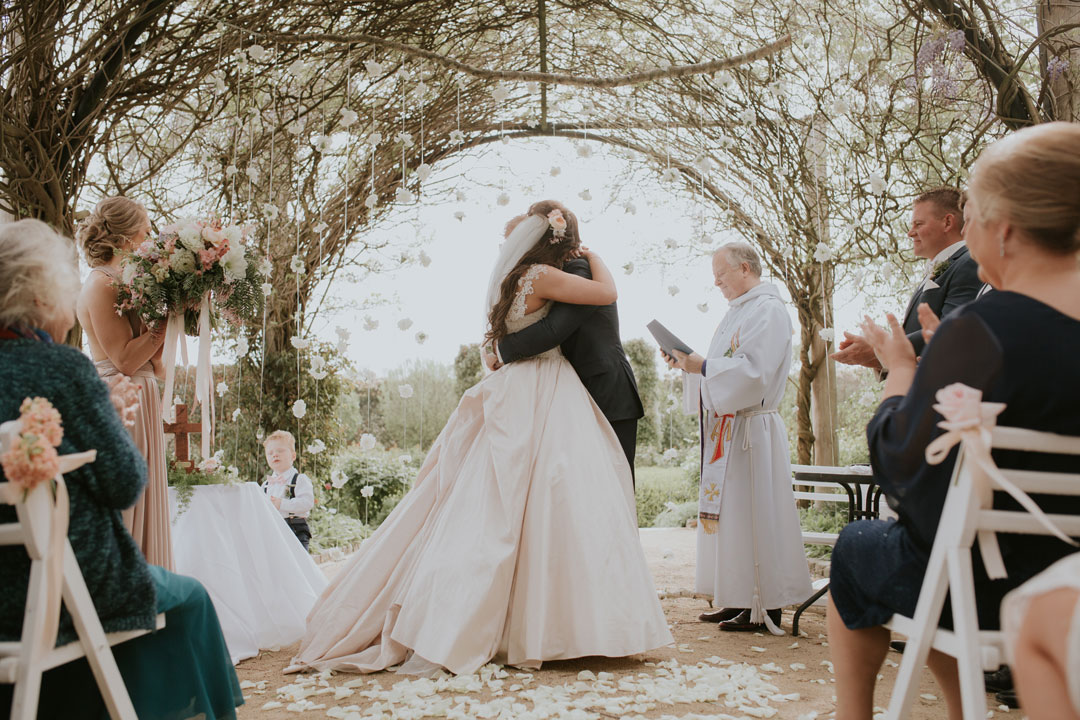 Formerly purposed as the property's hay shed, the fully renovated reception centre is furnished in true country style, with the addition of warm and cosy fireplaces and a stage for live music. Accompanied by a vineyard and duck pond, guests can continue to take in the tranquillity of the countryside, and later, pierce the quiet and dance into the night. Not only is the reception centre beautiful, it also offers a tantalising menu of sensational food, as well as professional, friendly servers who treat your guests with the utmost care.
With all these amazing experiences ahead of you, Inglewood Estate will make you feel at home from the minute you arrive. Assistance with planning your day, set up and pack up is all included with this venue, and the team desires to make your day as relaxing and enjoyable as possible. Get ready for the day in the original farmhouse, which was built in 1983, and has since been renovated and outfitted with exquisite décor specifically styled for classic pre-wedding photos. A special champagne lunch will make your day as a bride ever more complete, as you relax and let your wedding coordinator handle all the details of the day. If you are after a country-chic style of wedding, or prefer to hero the simple beauty that the Australian landscape has to offer, Inglewood Estate is an ideal location to celebrate your nuptials.
The panoramic views of the Yarra Valley are a site to behold as you drive up the winding road to uncover the beautiful bluestone homestead perched on the top of a hill. Located an hour's drive outside of Melbourne in Coldstream, the estate will treat you to a plethora of open scenery and breathtaking vineyards. 
The surroundings are just the beginning as you enter the French Provincial-style venue, which features bay windows, timber floors and a pitched roof. You will be able to organise your day with ease as the friendly and caring owners cater to your needs, and exceed your expectations. The Riverstone Estate offers a range of five-or-six-hour packages including options for a banquet or a seated luncheon. The team at The Riverstone Estate take pride in their high-quality food and estate-grown wines, to ensure all your guests leave satisfied.
With special access through the back door of the homestead, you will be able to arrive quietly and relax before the ceremony. With a glass of champagne in hand, take pre-wedding photos in the elegant and quaint bridal suite and watch the guests arrive as you settle your pre-ceremony jitters. Step outside through the ornate French doors and walk down the aisle, your loved ones supporting you seated on wooden pews either side of you. Look ahead to your future, and to the backdrop of the magnificent mountains, which are perfectly positioned to welcome the setting sun that rests beyond their peaks. In more moody weather, the main reception room can be transformed to host the ceremony in the blink of an eye, and the accented ceiling roses will be the perfect accompaniment to your floral arrangements.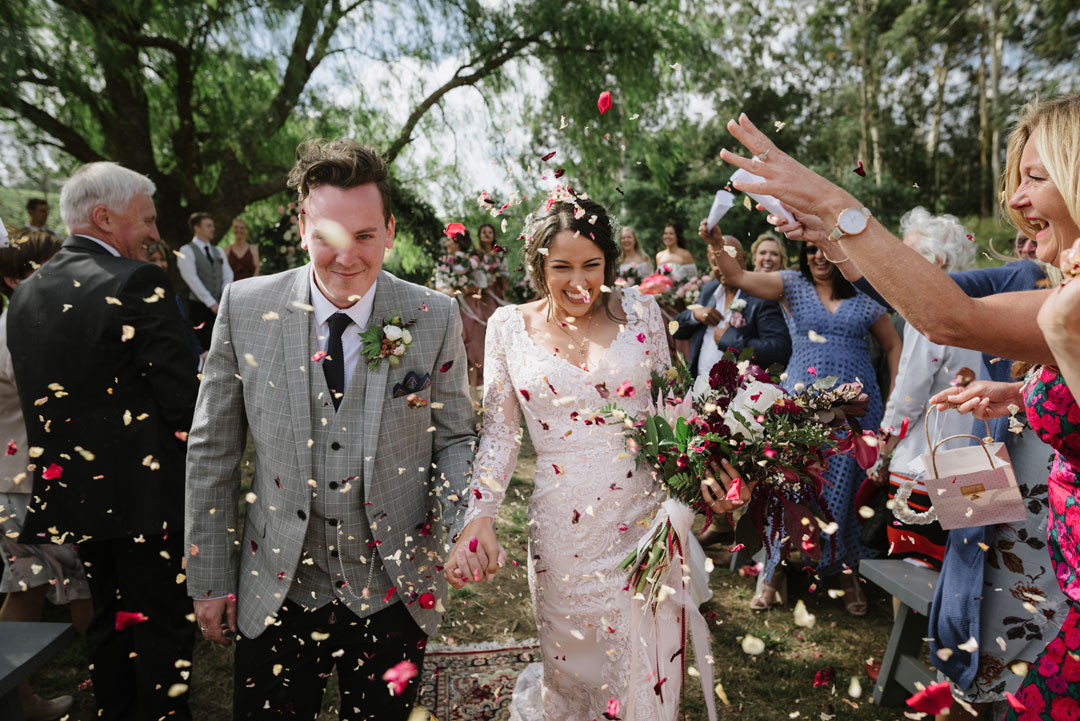 After the ceremony, guests can mingle on the lawn or in the warmth of the homestead, while you are chauffeured in a golf buggy to myriad breathtaking locations. Capture every moment as you stroll through the grapevines and alongside the river in the amber glow of sunset, and then rejoin your family and friends to let the celebrations begin.
Slow dance under the stars or linger with your guests on the wrap-around porch bordered by roses, as you enjoy the atmosphere. Appreciate the warm breeze and the sounds of a summer evening, or listen to the pattering of rain on the roof as you take in the misty mountains in cooler months.
The bridal suite is ready and waiting throughout the entire reception, replenished with food and wine, for a moment of privacy, or to take in the events of the day. The Riverstone Estate is the perfect blend of elegance and serenity, catering to all your needs and ensuring your day is everything you imagined it would be.
Ballara Receptions is a magical venue that creates the perfect atmosphere for a storybook wedding. This venue features manicured gardens, a lake that is home to a family of ducks, a cascading waterfall, and more. This family-owned location is a hidden delight. Only an hour outside of the CBD, Ballara Receptions is perfect for a variety of themed picturesque weddings. As the host of many amazing weddings over its 30 years of operation, the small team of experienced staff members understand both the excitement and stress of planning a wedding. Using their experience, the team will take your inspiration and bring it to life.
From English gardens to a lakeside jetty, the entirety of the grounds is available for your ceremony. Wooden folding chairs can be set up with your choice of backdrop for your vows. For a more traditional ceremony, or in the case of rain, there is also a glorious chapel that is adorned with chandeliers and exposed rustic timber beams. The chapel is a timeless feature of Ballara Receptions, offering stained glass windows and a cathedral ceiling. Let the chapel's bell tower announce your arrival, or gracefully drift down the aisle at your outdoor ceremony. No matter what you choose, your wedding will be absolutely beautiful.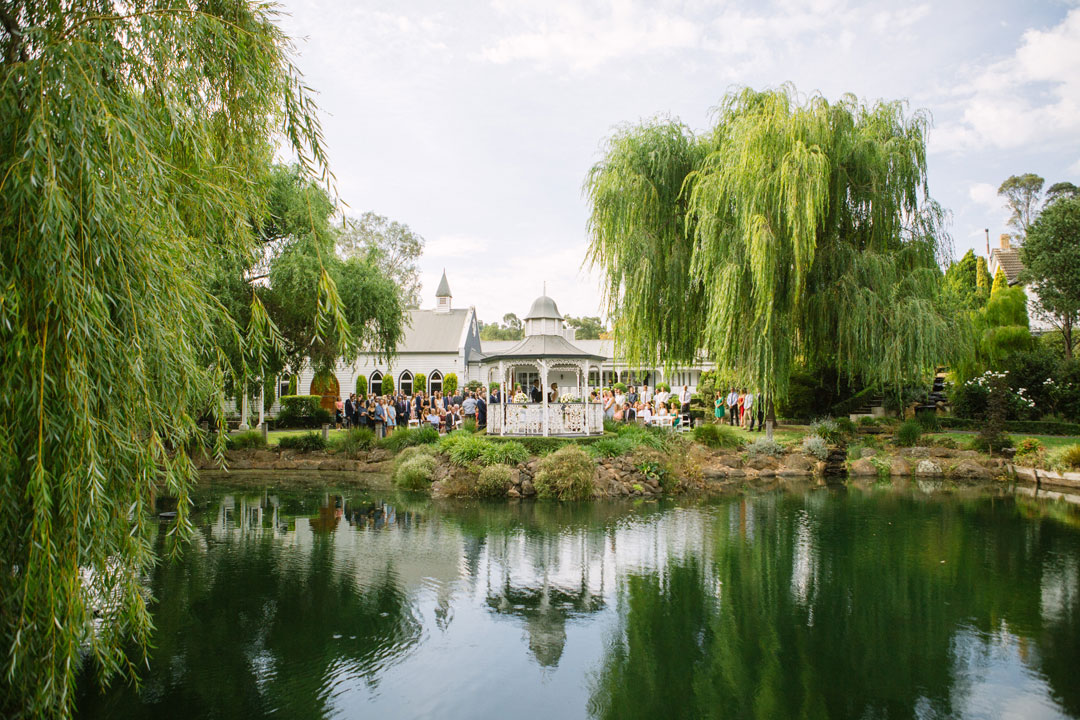 After you've said 'I do', you will have access to the entire estate to take your photos. With special touches such as a lakeside swing, gazebo, and ornate archways all set amid natural greenery you'll be sure to snap some amazing photos. Your reception can also be held on location, allowing you to experience a seamless transition throughout the day.
A range of different packages are offered to suit your needs for your reception. Hold a sit-down dinner with a three course alternating menu, a more relaxed cocktail-style affair, with canapés floating around the room or a high tea complete with savoury and sweet delights. If none of these packages pique your interest, the reception can be held outdoors, where food trucks can cater for your guests.
With the amount of options and the limitless beauty of this venue, your dream wedding is sure to become a reality. With your input, all the little details will be taken care of, and when the day comes you won't have to worry about a thing. Rely on the team at Ballara Receptions for an unforgettable day filled with enchanting beauty and style.
If you are searching for something more modern, but still want to maintain the allure of natural scenery, Aitken Hill is the perfect venue for you. Situated on 170 acres of rolling hillside, Aitken Hill boasts everything you need from a convenient location. Only 15 minutes from the Tullamarine airport, the venue can accommodate up to 240 people. Wrapped up in one venue, your wedding can be both classic and glamorous, and modern and traditional. Aitken Hill designs its weddings for every individual, with no two weddings the same.
With access to the recreational facilities, the options for both pre- and post-wedding entertainment are numerous. Play a round of golf, enjoy the pool facilities or indulge in a high tea. Weddings at Aitken Hill can be weekendlong affairs, perfect for guests travelling from out of town to witness your nuptials.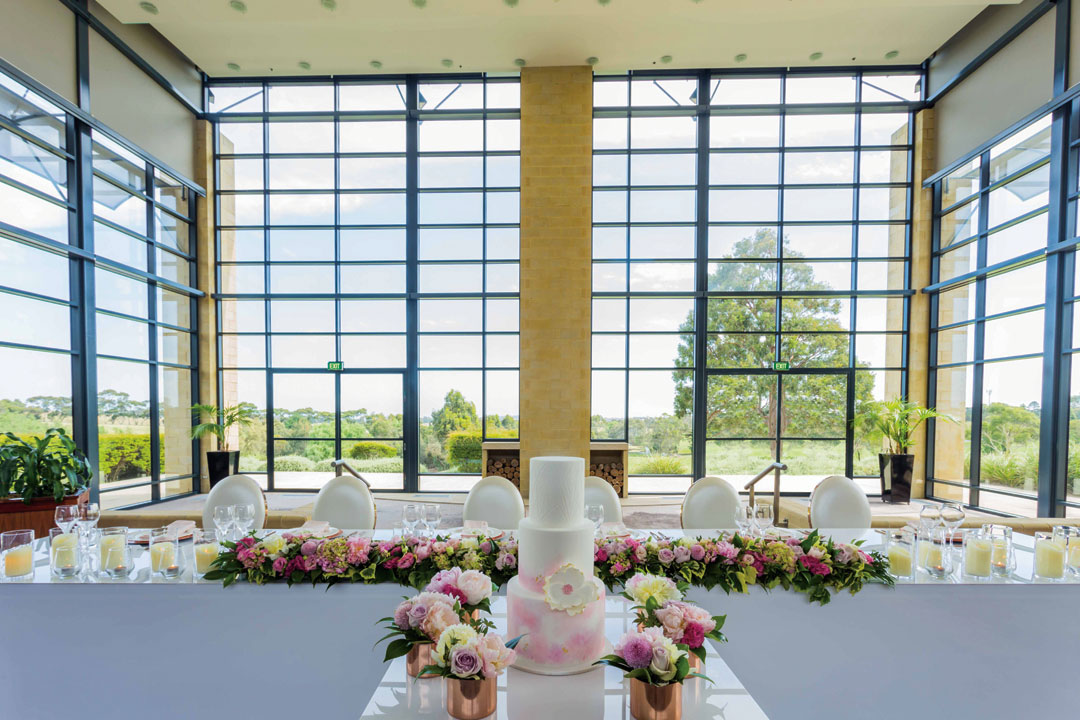 To ensure your day is planned to perfection, dedicated specialists are ready to help you organise everything you need. With a custommade package for every wedding, you are spoiled for choice. The ceremony can take place in a garden setting, with a lakeside backdrop, or simply in front of the soaring grey ghost gum tree.
With a wet-weather option, there is nothing to worry about if the clouds turn grey. After the ceremony, explore the expansive grounds and discover the luscious green gardens with your photographer in tow, or be carted around to the various sites by buggy. Upgrade your package to include post-ceremony refreshments and enjoy peace of mind knowing that while you are taking photos, your guests are taken care of and entertained.
Your reception will be held in the Grand Dining Room, which features stately views of Lake Trinity and enough space to comfortably fit all your guests. Everything you will need for your reception is provided, and the room is perfectly setup for your guests to put on their dancing shoes as the night continues. Upon arrival, delicious canapés will be provided before guests feast on an outstanding three-course meal with options to suit every palate. The food is served by professional and warm staff that will ensure your day runs smoothly.
Relax in the knowledge that your wedding night accommodation is taken care of, as Aitken Hill offers a complimentary stay in one of its four luxury suites after the reception. All of Aitken Hill's rooms are fresh and filled with natural lighting. Wake up with the sun in the morning, and enjoy a buffet breakfast with your guests as a great way to round out your weekend of celebrations.
Images courtesy of Inglewood Estate, The Riverstone Estate, Ballara Receptions, Aitken Hill