It's true that you can't help who you fall in love with. Each one of us has a unique story to tell, with no tale more special than the love you share with your partner, as you both journey through life together. Standing at a crossroads between the cherished memories already in existence and the many more to come, your engagement ring not only symbolises your relationship thus far, but so too does it look to the future. Melbourne Wedding & Bride's Emma Warner Allen meets with Cameron Splatt, goldsmith at Diamond Creations, to discuss how to choose the perfect engagement ring that will stand as a timeless jewellery piece in the years to come.
Photos Courtesy of Diamond Creations
AND THE REST IS HISTORY
It is believed that engagement rings originally emerged from Ancient Roman customs whereby wives wore rings attached to small house keys that indicated their husbands' ownership. The meaning behind the gifting of rings has certainly evolved over the millennia to become a more sentimental, contemporary and heartfelt exchange, with the modern engagement ring indicating an unfaltering commitment to your partner and the agreement to a future life together.
For most people, an engagement ring will conjure images of a single diamond set on a gold band, worn on the ring finger of the left hand. "The most traditional engagement ring would be an 18-carat yellow gold ring with a single diamond [that's] either round or oval," the goldsmith attests. Perhaps its popularity can in part be attributed to its timeless nature, as Splatt maintains that this style is a simple and refined choice that will never go out of fashion. "The classics never die, and in twenty years I'll still be making round brilliant cut diamond solitaire engagement rings," he affirms.
Even the classic style has evolved slightly from its humble beginnings, with the expert noting that the gemstones have become significantly larger as the years have progressed. "If you look at an engagement ring from a couple of generations ago, you'll notice a smaller diamond with very little embellishments," Splatt affirms. "[However] today, there are literally thousands of styles, and that's not including anything that is customised to the individual client's requests," the goldsmith enthuses. As jewellery casting techniques have improved over the years and materials have become increasingly available, engagement rings have expanded to include a range of different styles, metals, and gemstones, fuelling couples to opt for unique and personalised rings. "I wouldn't say that diamonds have decreased in popularity, I think it's more that the client has become more aware of different styles and more people are seeking individual rings that are different from what their friends have," Splatt notes.
I LIKE YOUR STYLE
It's still possible to create a unique ring while still adhering to the timeless classic styles, with a range of metals and gemstones and even engravings that can stand as a point of difference. When asked which styles are the most popular, the jeweller noted that the classics were the overwhelming favourite, with round brilliant cut, oval and pear shapes ranking the most popular styles requested from Splatt and his team. "Most of the time a partner will give a few hints about what they'd like and I always encourage the other to note them down so they don't forget," he states. "[Even] a simple Google Image search is incredibly useful for me. Any pictures they can bring to me helps with the design process. Use simple terms like 'pear shape diamond engagement ring' and go from there, making sure to save any pictures along the way," the expert advises.
TEST OF YOUR METAL
There's a reason why gold has snuck into a range of idioms to occupy space within the general vernacular. From 'as good as gold', to 'worth its weight in gold', these phrases alone hint at the value assigned to the precious metal. However, gold is not the only option available, with silver, platinum, white gold and rose gold to choose from, brides and grooms are spoilt for choice and the available options are reflected in the diversity of rings requested. "I would say one in every ten rings I have made this year has been in rose gold. Compared to a few years ago that has dropped significantly," the jeweller posits. "White gold is still the king, however, it has had quite a price increase during the last twelve months. Platinum hasn't had the same increase and it's become quite affordable in comparison to white gold, so I have been doing a lot more platinum than I have in the last fifteen years." Meanwhile, the jeweller also flags that yellow gold has also recently increased in popularity, which may be due to people opting for a more traditional option.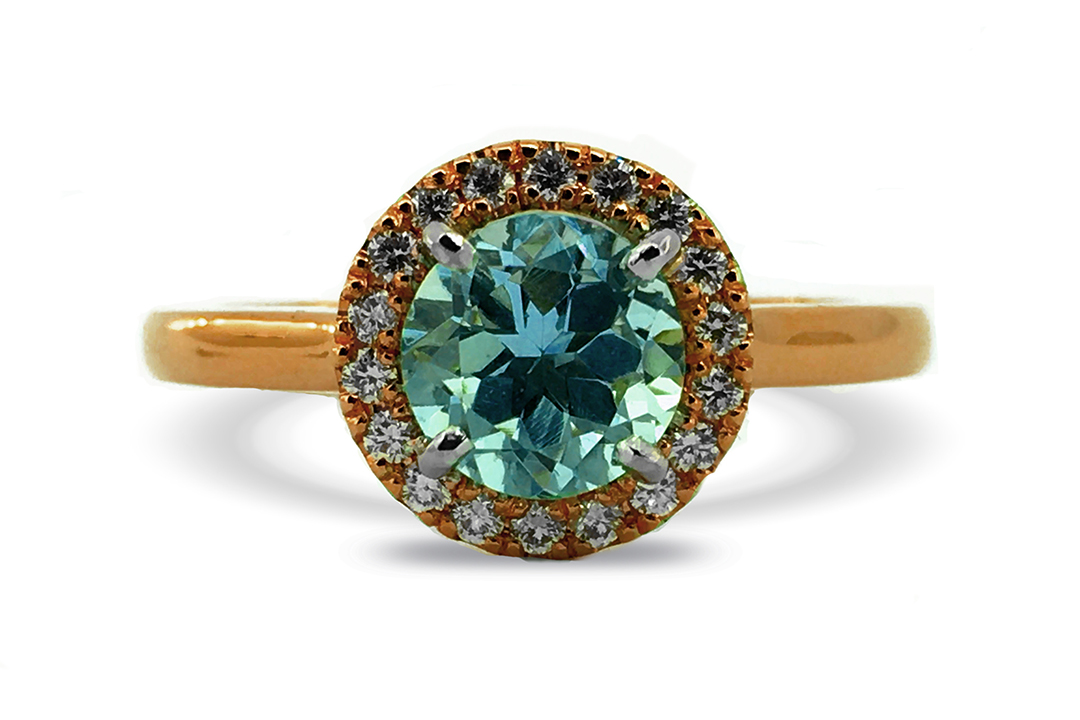 Betrothed individuals not only need to navigate which metal they would like, but also the carat. Most instances of jewellery will be using a metal alloy, meaning another metal is added to make it stronger. Using gold as an example, the higher the carat means the higher the gold content, with the additional metals including zinc, silver and nickel to make the jewellery stronger. A 9-carat ring will contain less gold and won't damage as easily, but it also won't be as valuable as an 18-carat ring, for example. Metals such as gold are notoriously soft and "the argument of a higher carat metal being softer is a hot issue within the industry". "Using 9-carat as opposed to 18-carat is not going to create a huge difference [in] hardness. What will make a difference is what the wearer does whilst wearing the ring," the goldsmith notes, recommending that rings be removed for any strenuous activities to ensure it is kept in the best condition possible.
YOU'RE A GEM
While diamond rings are the traditional option, more couples are diverging from historical constraints and are seeking alternative options that are a more unique reflection of themselves. "An amazing ring can still be made with a smaller budget by using a centre stone that isn't a diamond," Splatt advises. "If you're not into diamonds now is the time. There's literally thousands of choices in precious gems and more and more are becoming available to people." Whether you're seeking a diamond, sapphire, emerald or topaz it is advisable to be informed about the proper care practices. "Most [precious stones] are perfectly fine to be used as an engagement stone, the client just needs to be aware of how to look after the stone. For example, emeralds are notoriously weak compared to diamonds and even sapphires," Splatt cautions.
If the phrase 'diamonds are a girl's best friend' rings true for you, but you are working with a smaller budget, consider a lab-grown diamond. "We have made a few rings with lab grown diamonds and they're a great option for someone who wants a larger diamond without the large price tag. I always make sure I educate the client on the differences between mined and lab-grown diamonds and make sure that they make the choice themselves," Splatt explains. Navigating the waters of diamond selection isn't always plain sailing, with colour, clarity and cut being the primary points of consideration. "Clients need to be aware that the higher grade a diamond, whether it be colour or clarity, or both, the higher the price. Something that most jewellery salespeople won't tell you is that you don't have to get the absolute highest quality diamond to have a beautiful ring. As long as you choose a stone with a nice quality, you'll have a nice ring," Splatt concludes.
Regardless of what ring you would like to wear with pride, it's always best to consult an expert who can help guide you and offer advice based on years of expertise. With more options available than ever before, couples are truly spoilt for choice, and can create a ring that is a true reflection of their unique relationship.