If you're searching for a fun, no-fuss way to celebrate your special day with your loved ones, glamping might be the answer you've been searching for. Here, Tristan Lott endeavours to find out why so many couples are drawn to the unique and relaxed atmosphere of a glamping celebration.
The wedding industry has seen a huge shift towards more casual nuptials, and camping weddings and wedding festivals are at the forefront of this movement. While camping is often seen as 'roughing it', glamping is a different experience entirely – and it's not hard to see why couples who are after a memorable wedding are drawn to this stylish and hassle-free approach.
To Glamp Or Not To Glamp
If you're looking to create a fun and laid-back atmosphere, glamping provides an opportunity to escape the usual restrictions of five- or six-hour reception packages. This gives you a chance to spend more time enjoying the company of your friends and family without worrying about making it back in time after your wedding photos or anyone's speeches go over time.
If being immersed in nature suits you and your partner, opting for the festival feeling that glamping provides can allow you to enjoy a stylish and laidback celebration without sacrificing all the traditional aspects of your wedding day.
Festival-style weddings, or 'wedstivals', offer an unlimited array of possibilities for a relaxed and informal celebration, with many couples opting to stretch their celebrations out over a whole weekend. With the opportunity for your guests to retire mere metres from the reception, wedstivals offer flexibility for you and your guests – with the added bonus of saving money on accommodation and transport costs!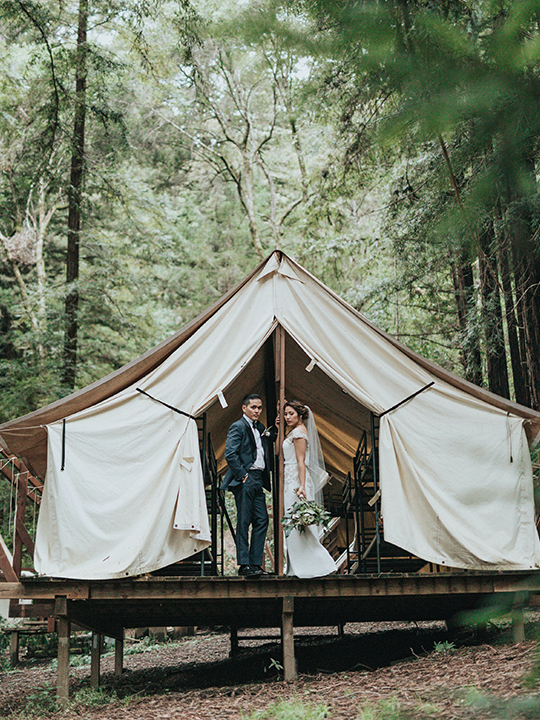 Pitched To Perfection
Glamping is a contemporary twist on outdoor weddings, which have always been a popular choice for couples. If you're planning a summer wedding, take advantage of the warmer climate and natural surrounds by immersing yourself in the great outdoors for your big day.
Once you've decided whether or not glamping is right for you, finding a venue is the first big hurdle – but this may be easier than you think! Several beautiful wineries within Victoria's iconic wine regions offer glamping facilities. Additionally, farms and national parks are taking advantage of this trend and opening their gates to couples for their wedding celebrations. A quick google can reveal dozens of locations, and if your dream venue doesn't advertise its capability to host wedstivals, it's always worth an ask!
After you've found your perfect patch of countryside, a quaint woodland retreat or a beachside paradise, it's a relatively simple process to start pitching in. If your location is quite a drive for you and your loved ones, consider creating dedicated glamping villages for you and your guests to stay in. Alternatively, larger teepees that can comfortably seat up to 100 people create a unique take on a traditional reception space.
A glamping celebration can be easily customised to suit the tastes of you and your partner, from greenery draped across every surface to scattered floral arrangements adding pops of colour to the space. If you're after a boho or vintage vibe, consider lanterns, layers of patterned rugs and smatterings of eclectic furniture. Stringing fairy lights and dressing the space with plush cushions and sofas can create an inviting and warm atmosphere. For a more refined approach, consider draping soft linens across the tables, sleek tableware, simple lighting, and structured bouquets to dress the space.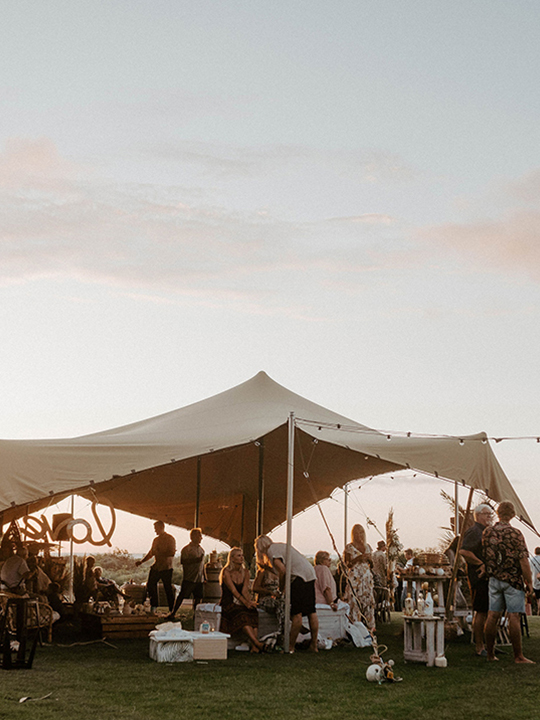 Food, Glorious Food
The menu is a monumental decision, no matter the style or location of your big day. Catering can be a slightly more complex conversation when considering a glamping approach, but there are still a myriad of options to satisfy you and your guests.
Just because there may not be an established kitchen at your glamp-ground doesn't mean you can't enjoy a beautiful meal. Food trucks offer a great alternative to a traditional caterer, and with options from Mexican to pizza, and burgers to ice cream, there's something for every taste and preference. You could even hire a few options for the night and allow your guests to roam – most companies will happily run a tab for the night. Furthermore, many food trucks offer packages for weddings that include roaming canapes, perfect for a relaxed, cocktail-style evening. Most also offer more substantial fare if you'd like a buffet or something like the more traditional plated dinner.
You don't have to sacrifice a traditional three-course menu either. Hiring a bigger glamping tent with tables and chairs can accommodate this type of menu, or you could opt for a buffet or feasting table to allow your guests to take in the spectacular views. Grazing tables are also a popular option that you can DIY, or even take advantage of one of the many companies that create spreads that are as beautiful and picturesque as the are delicious.
Most catering companies have their own liquor licenses and offer bar service, so the drinks can flow all night long. Alternatively, you could hire dedicated bar carts or vans for your big day. Be sure to ensure you're choosing a caterer who has the right permits, as – depending on your venue – a temporary liquor license may be required.
Leave It To The Experts
Whether you'd prefer intimate accommodation for you and your partner, or a teepee village for all of your guests, glamping is a stylish and cost-effective way of bringing your loved ones together for your big day. If you've found the perfect site for your celebration, but it's not equipped with all the required amenities, there are many vendors that are familiar with the requirements of glamping weddings, and will be able to point you in the right direction and lend a helping hand.
Power, water, and access to bathroom facilities are all factors you will have to consider when planning your glamping wedding. Luckily, many companies run dedicated glamping services, and will have a list of recommended suppliers who are well-versed in the unique complexities of wedding festivals.
As most tents are blank canvases – literally – glamping weddings allow you and your partner a unique amount of control over every aspect of your wedding and its styling. The opportunity to DIY everything from bunting to table dressings appeals to the Pinterest-obsessee in all of us. Peruse op-shops and garage sales in the lead-up to your big day for eclectic glassware and mismatched décor that creates an interesting aesthetic. Consider themed save-the-dates and invitations, menus and place cards.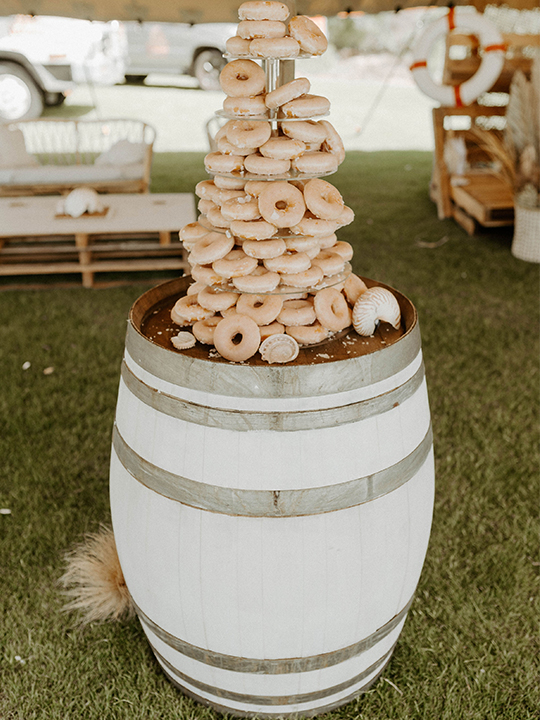 (No) Closing Time
Glamping is a great option if you and your guests are travelling long distances to reach your wedding destination. A glamping village can be a great alternative to a hotel – especially if you're getting married in a small town! With bell tents that can sleep up to six people comfortably, there are a plethora of options to accommodate all. If you're thinking a festival-style wedding is for you, organising glamping accommodation alongside your reception allows you to make a weekend of your wedding. It's an easy way to keep the party going without having to worry about venue closing times, or trying to organise transport because you and your guests can retire to your glamping village at any time you choose.
If you love the outdoors or you are looking for something fun and different to celebrate your commitment to one another, a glamping wedding may be the perfect way to create the idyllic, memorable celebration you've been dreaming of. Whether you're after a boho-inspired haven or a stress-free paradise to unwind after your nuptials, glamping can provide an amazing experience your guests will be talking about for years to come.
"The sunset in the background caused the flowers to take on a golden hue as the couple were exchanging their vows," he says fondly. "Inside, the table arrangements consisted of more than 50 jars filled with soft pink and peach petals illuminated by the glow of tea lights, while gorgeous foliage spanned several of the roof's beams."