Elide Valente, the founder of Bonita Couture, pushes the boundaries of bridal design and understands what women want. Creating unique wedding gowns for the bride who wants to be both sophisticated and sexy, she's considered one of Australia's most prestigious designers. Tijan Biner catches up with Valente to discuss the details of her design process, the company's new studio, and an exciting new venture.
The world of couture is alluring – it encapsulates hand-stitched works of art, meticulously diverse and delicate beading, and complete and utter indulgence, and at the centre of it all is Elide Valente, the founder of Bonita Couture. With a clear taste for graceful, elegant cuts and premium fabrics, she has made waves as one of the country's most sought-after wedding gown designers.
HUMBLE BEGINNINGS
Born in Brazil, Valente – a designer, couturier, and master of the atypical wedding gown – was five years old when she began constructing outfits for her dolls. After moving to Italy with her family at the age of 13, she continued to design and create everyday clothes for herself.
With nothing to work with but her mother's sewing machine and fabric scraps, Valente taught herself the art of dressmaking from scratch – a "labour of love", as she calls it. After moving to Australia, she went on to study patternmaking and design at the Emily McPherson College of Domestic Economy, while also working as an assistant designer for four years.
Her debut into bridal fashion came about after designing and creating her own wedding dress, and after she became pregnant with her first child, Valente continued to work and create bridal gowns from her home. Now, she owns a successful studio and boasts hundreds of clients, many of whom are celebrities and social media influencers. Her story is as close to a fashion fairytale as it gets.
With construction based entirely out of her quaint Brunswick atelier, Valente works tirelessly to produce gowns of the highest quality. She
designs and creates dresses in her workshop, while bridal fittings take place in the intimate studio next door. Surprisingly, the roaring sound of cars and trucks along Sydney Road can barely be heard from inside the studio – it maintains a homely feeling, which is what Valente always longed for. Operating strictly by appointment only, the studio is warm and inviting; a reflection of the one-on-one service brides-to-be can expect from the company. "It's more personalised," she says. "Brides enjoy that I'm there just for them."
Valente is calm and composed as she proudly flicks through the rack of her large collection, talking me through each custom-made gown. She's elegant, sophisticated, and possesses old-world cordiality that anyone would find appealing, but she's also modern – she just "gets it". Her most distinguished skill lies in marrying dissimilar aesthetics with her signature style – fashionable and sophisticated, yet sexy. "A Bonita Couture bride is a woman who has a very good sense of style, but wants to be unique and individual," she says.
THE INSPIRATION
For her latest Aphrodite collection, Valente drew inspiration from the carefree Mediterranean lifestyle; the collection perfectly combines style and originality with gowns that feature luxurious plissé, draped silk and elusive beadwork. "Inspired by Greek culture and style, I just started to create with the fabrics in my hand," she says.
Finding the right inspiration for a bespoke wedding dress may not always be simple, but Valente believes in letting her imagination run wild. Constructed solely by hand over hundreds of hours, and using century-old techniques, each Bonita Couture gown is like no other. She isn't fazed by what other designers are doing or what trends are in season, either. "I draw my inspiration from beautiful fabrics," she says. "I love creating and using fabrics such as fine silks and French laces. When I touch them, I just envision something straight away." In terms of her design process, Valente literally lets the fabrics do the talking. "I'll start with an idea by just looking at the fabric, and then I'll draw it," she says. "A lot of the designs I create end up turning out a little different than I planned because I change them as I go. It's almost like a higher power takes over."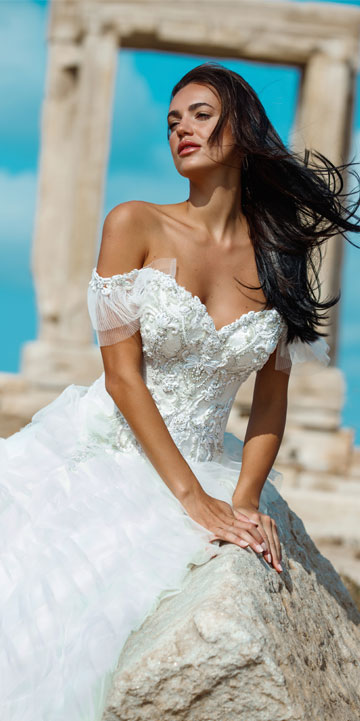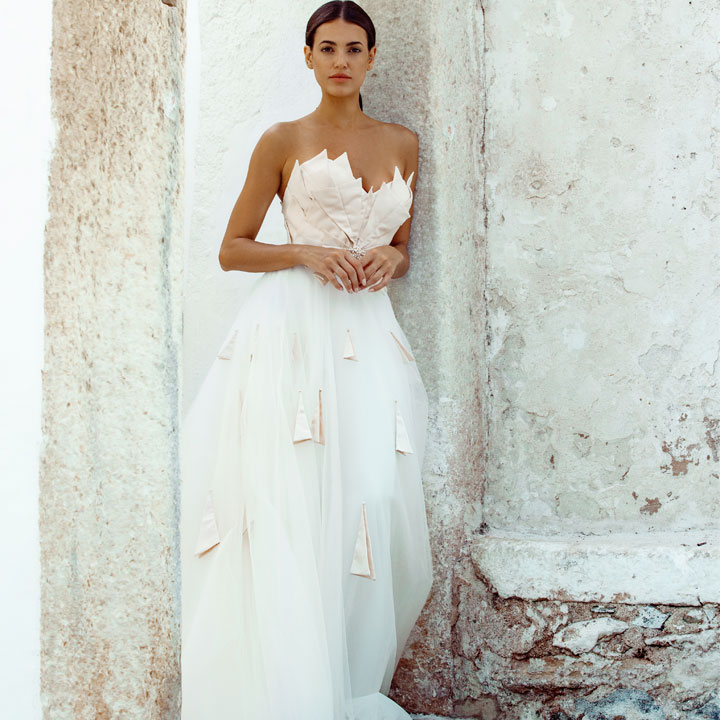 A PERSONAL TOUCH
Valente has seen a number of changes to the bridal fashion industry since the inception of her company, particularly in regards to the quality of current off-the-rack gowns. "The quality of imported dresses is not the same as what it used to be, but not all brides have the budget for a couture gown," she says. "A standard off-the-rack gown will never fit the same compared to one that's created especially for your body shape." If there's one thing that Valente is sure of, it's that "the bride who wants to be unique will always go for the couture gown".
"It's much more personalised," she says. "The couturier will look after the bride throughout the experience, and changes can be made while the gown is being constructed to improve the design even more as it evolves." In fact, she is so passionate about the craftsmanship of couture that her tip for brides-to-be is to prioritise the dress over budget. "Make the dress the most important part of the wedding," she says. "Also be aware of the quality of the fabrics used, as well as the fit. It's worth having the extra fittings on a made-to-measure gown to ensure it reflects your personality."
Showing no signs of slowing down, Valente has extremely big plans for the future. She is set to launch the company's new range, Bonita Baby Couture, later this year after noticing a gap in the childrenswear market. The new line will feature high-end, custom-made garments for little ones – many of who are likely her previous clients' first children. "A lot of my brides have already booked appointments for their first babies," she says. "Some have even asked me to match their child's first christening gown to their wedding dress."
The rise of Bonita Couture has been fast, furious and revolutionary in this somewhat old-fashioned industry, but the company's future as a couture house is destined for even bigger and better things. Regardless of what's next on the agenda, all Valente wants to do is continue designing and crafting bespoke, one-of-a-kind pieces. "As long as I'm still making beautiful wedding gowns and bringing brides' dreams to life, I'll be happy," she says. Spoken like a true creator.
Images courtesy of Bonita Couture