It is said that your wedding day should be one of the happiest days of your life, but in reality, these highly emotional occasions, which at their core are a celebration of love in all its many forms, can be impacted by the devastating truths of the human condition. Here, Pamela Hale speaks with Dr Lynette Maguire, the founder and chief executive officer of My Wedding Wish – a charity that is dedicated to celebrating the beauty of love in the most difficult of circumstances.
The profoundly special services that My Wedding Wish offer were inspired more than a decade ago, when Dr Lynette Maguire was asked to fulfil the dying wish of a 24-year-old man who, more than anything, hoped to marry his partner before passing. "Of course I said yes and the wedding, pulled together in just four hours, was one of the most emotional weddings in my time as a marriage celebrant," Maguire says. "After that, I thought, he's not the only soul who's going through this, so I decided to start pulling together weddings for the terminally ill on the Sunshine Coast, and it just grew [from there]."
Now a registered charity recognised by the Australian Charities and Not-for-profits Commission (ACNC), My Wedding Wish has a series of chapters throughout Australia, and has gifted weddings across far-flung regions of the nation since 2013. The charity will also be expanding internationally next year, Maguire says.
While these weddings are often prompted by incredibly heartbreaking circumstances, the ensuing events are also filled with immense amounts of love, and have the ability to bring some happiness to the most painful of times. "These weddings are so emotional," Maguire says. However, the unadulterated fulfilment that they can bring in times of acute sadness is rewarding work. For Maguire, this is what really matters. "My highlights are seeing the absolute joy on the faces of couples, who often thought they would never have the chance to marry," she says.
One of the most moving aspects of the charity's work is its openness and flexibility. "Couples with a prognosis of less than five years, as well as those with life-limiting illnesses, can apply for a gifted wedding anywhere in Australia," Maguire explains. "We never guarantee what will be gifted, but do our best to meet the criteria of the couple. Some couples want a big white wedding and have years to plan, others are quick bedside vigils."
Once the charity's board has approved a couple, a ceremony can be arranged. The team understands that time is often of the essence, and approvals can be granted in as little as an hour. "Where legal weddings aren't possible, we're happy to gift commitment ceremonies," Maguire adds. "I've organised $30,000 weddings in an hour, which never ceases to amaze me!
"We can't ever guarantee what will be gifted, but for our small, bedside weddings we try to arrange a celebrant, photographer, hair and makeup, and flowers," Maguire explains.
In January, My Wedding Wish donated a ceremony of this style to a Melbourne-based couple, Tracey and Colin.
Alongside Gail Cremen, the celebrant who performed the wedding itself, My Wedding Wish was able to orchestrate hair and makeup services, flowers, photography and videography, while a friend provided a truly stunning cake to ensure the marriage could be celebrated in style.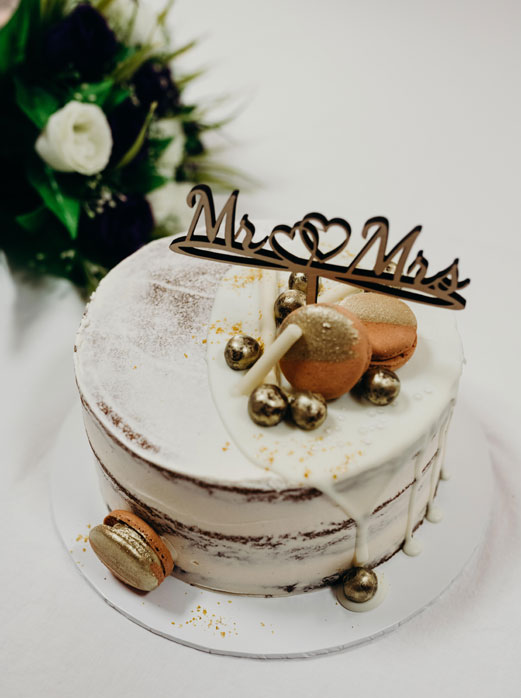 Described by Cremen as respectful and unobtrusive, the kind individuals that volunteer for My Wedding Wish and donate their services proved to be a valuable addition to Tracey and Colin's wedding, particularly with regards to documenting the special day. "They managed to capture such raw emotions and create lasting memories for Colin and their family."
The services that My Wedding Wish provides are so significant for myriad reasons; for the couples it assists, and their loved ones, these weddings have the ability to make a dramatic impact on the lives of a number of people.
For Tracey and Colin, who were inseparable since the moment they met, almost a quarter of a century ago, marriage was always on the cards. "He had proposed 12 years ago, but their lives with six children and grandchildren were so busy they just never got around to it," Cremen explains.
In order to orchestrate the wedding in a mere day, Cremen and the team at My Wedding Wish truly went above and beyond to ensure the couple's dream of marriage could become a reality.
"Time is usually against us," Cremen says. "Sometimes we have a week or two, but in this case it was a matter of a day." With this in mind, Cremen took every length from writing the ceremony at 3:00am and compiling and completing paperwork, to negotiating with the authorities at the Victorian Registry of Births, Deaths and Marriages to ensure a legal ceremony could take place. In doing so, not only was the couple's wish fulfilled, but a beautiful, if bittersweet, remnant of their final days together lives on.
"We really do make dreams come true," Maguire says. "The reward is knowing that not only are we giving the gift of love to couples facing terrifying futures, but whole communities come together and connect, and the world could use more of that. We give the dying a beautiful gift, and the memories of the day stay with their families long after they're gone."
It is said that your wedding day should be one of the happiest days of your life, and regardless of circumstance, with the right arrangements it can be.
Photography Credit: Glitter and Shine Photography, Tahnee Jade Photography, Boutique Blinks