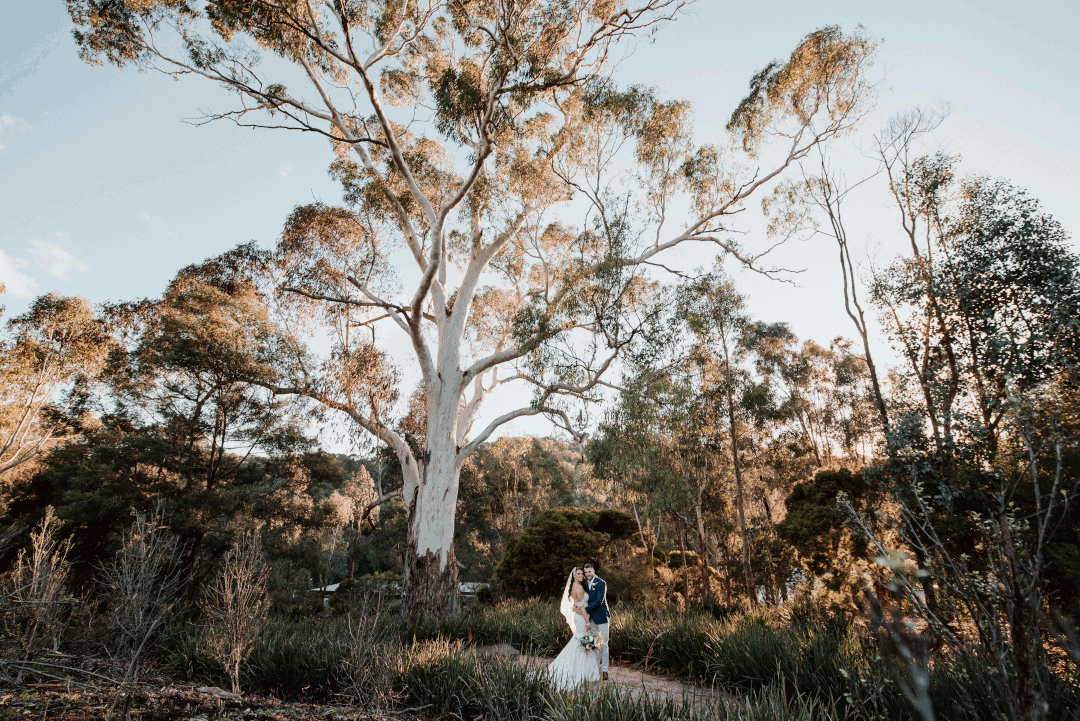 Located just twenty minutes from Melbourne's CBD, Potters Receptions will mesmerise you from the moment you lay eyes on the picturesque venue. From the luscious landscaped gardens and romantic wisteria-draped courtyard, to the charming non-denominational chapel and incredible reception space overlooking the gorgeous waterfall and native garden, every inch of the six-acre property is the epitome of luxury sophistication and rustic elegance. With a passion for local, seasonal produce on the impressive menu, ample accommodation available on site, and three ceremony locations, the knowledgeable and passionate team can guide you through every step of the planning process. Potters Receptions is the perfect backdrop to create a truly unique and unforgettable wedding celebration.
Starting Price Per Head: POA
Cuisine: Modern Australian
Distance From CBD: 33km
Choose from the intimate chapel, the lush native garden, or the romantic wisteria-draped courtyard when planning your wedding at Potters Receptions. The large dining room offers the perfect space for dinner and dancing with your loved ones, with windows that overlook the stunning waterfall and beautiful greenery. The timber dance floor features a raised stage perfect for speeches and entertainment, in close proximity to Potters' exclusive built-in photo booth. Menu options include cocktail, traditional plated meals, and the signature shared plates experience. The talented culinary team curate new menus regularly using fresh, local produce that can be customised to suit any range of dietary requirements, including all-vegetarian or all-vegan dining experiences. Six acres of breathtaking gardens curate unique locations for photos, while any couple celebrating their wedding at Potters is offered exclusive access to the Riverlea vineyard for even more photo opportunities. Eight luxurious rooms are available for you and your loved ones to stay on after the reception, and the impressive bridal suite is outfitted with a private courtyard, a cosy fireplace, and a freestanding bath overlooking the quiet zen garden.
Jess - Facebook
Potters were so accommodating for our Wedding – all their staff were lovely and they really went over and above to make sure we (and all our guests) had an amazing time. Thanks so much!
Rod - Facebook
The setting is just spectacular well maintained and very clean the staff just go that extra mile to be so helpful and polite so much so that the whole experience was just an absolute pleasure the food was plentiful and to gourmet standard each staff member was extremely helpful and polite all with beaming smiles. You could tell that they just loved being there and enjoyed their work … I cannot flaw this experience and am sure anyone thinking of using Potters as a venue for that special occasion will not be disappointed.
Matt - Google Reviews
Had the pleasure of playing at a wedding here earlier this year. Great venue. Staff friendly and helpful, loved the wisteria arbour for the ceremony, and reception room sounded amazing.
Gabby - Google Reviews
Best wedding venue ever!! Mandy and Ellie were so amazing and helpful and made my day so special and everything ran so smoothly they could not be any more helpful if they tried! We were married 25.10.2019 and everyone absolutely loved the venue and had the best time ever! The venue is absolutely stunning food is amazing and such great value! They have so much to offer and you really get your money's worth!