Sharon Kershaw – Civil Marriage Celebrant
Considering it an honour to share in the magic of your special day, Sharon Kershaw is a caring, experienced, professional marriage celebrant with more than thirty years' experience in acting, singing and song-writing. Sharon's innate understanding of presentation and performance, attention to detail, warm, easy-going personality and engaging sense of humour make her the ideal choice to co-create a bespoke, love-filled ceremony for your wedding. She will truly reflect your vision and love story; calmly guiding you through, creating a safe, stress-free experience where all cultures, beliefs and sexes are welcomed. Based in the scenic Yarra Ranges, Sharon will travel almost anywhere to be part of your day.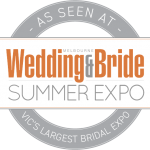 With a professional, thirty-year background in singing, acting and songwriting, and almost ten years as a civil marriage celebrant, Sharon Kershaw has the capacity to delivery a wedding ceremony as unique as you and your partner. Sharon has a meticulous work ethic, a wonderful sense of humour, and is committed to crafting ceremonies to accompany life's biggest milestones.
In addition to weddings, Sharon's diverse, personalised services include vow renewals, same-sex marriages, name days, funerals, pet blessings, divorce ceremonies, house blessings, and women's ceremonies. Sharon welcomes the creative or traditional, and is happy to accommodate any style, preference or theme.