TYING THE
UNPRECEDENTED KNOT
2020 has undoubtedly brought a range of unanticipated challenges not only to each individual, but to every profession on a global scale. With the wedding industry uniquely impacted by fluctuating restrictions and social distancing practices, tying the knot and saying 'I do' during such circumstances has required careful adaption. Here, Melbourne Wedding & Bride editor Bethany Hayes speaks with a range of Melbourne's wedding experts to explore how they have evolved their practices amidst changing restrictions and shares their hopes for nuptials of the future.
With the COVID-19 pandemic introducing unexpected and ever-changing circumstances, plans for weddings in 2020 have been turned on their head. As these Melbourne wedding vendors share, the key has been adapting to changes as they happen, helping couples navigate restrictions, and remembering that – regardless of guest lists or location – the celebration of this union really is all about love.
DEBBIE WAITE – Civil Celebrant
Having a background in secondary art and comparative religion teaching, as well as having designed artistic community projects at an international scale, becoming a civil celebrant and uniting partners on one of their most significant days was a natural career progression for Debbie Waite. Recognising that "there is something so special about getting married to your partner", Waite's role as a celebrant centres around hearing the stories of different couples, and relating such stories with "warmth, humour and sincerity to their family and friends". "Being part of a couple's happiness makes my role meaningful and I love working with them to make their day fun, unique, special and above all – memorable," Waite remarks.
Prior to 2020, Waite's work would typically begin with couples contacting her for an initial meeting, where she would spend time with them in a relaxed setting, getting to hear the couple's stories and then designing a wedding  tailored to suit their wishes and style. "I am passionate about designing and delivering an engaging ceremony which is professional and relaxed, reflecting their own individual personalities and lifestyles; full of their hopes and dreams, values and beliefs," the celebrant explains. Before COVID-19 Waite's typical wedding guest lists would find themselves ranging from forty to 200 guests, "often with a large wedding party in a chapel, beach, winery or garden setting" – or even in diverse places such as the Melbourne Aquarium or the RACV Library.
With the unpredictable and unplannable nature of a global pandemic, Waite's work, like that of so many celebrants and wedding professionals, has changed substantially, with weddings limited to only five attendees for a period of time. "During these difficult COVID-19 lockdowns, [there have been months] where weddings have been restricted to five people only; the bridal couple, celebrant and two witnesses," Waite explains.
The implications of such restrictions meant Waite took on several additional responsibilities – the need to enforce social distancing among guests, providing separate microphones and individual pens for signing legal documents – not to mention lots of hand sanitiser! "Weddings are still written in the same format, despite being smaller, and often the ceremony is streamed over Zoom around the world to family and friends, so they can feel part of the couple's special day," the celebrant details.
While for 2020, overseas and even interstate guests have been unable to attend weddings, Waite – like so many other wedding professionals, has gone above and beyond to ensure every wedding she officiates is still the once-in- a-lifetime celebration. "COVID-19 has made me think outside the square, and I have enjoyed working with couples to create intimate, romantic ceremonies with atmosphere, including artistic and musical touches," she adds. For couples that have aptly tied the unprecedented knot, Waite believes it is the little touches that ensure the wedding remains as special as ever, and she advises them to enjoy the time as newlyweds. "I recommend planning something lovely to make the first twenty-four hours as newlyweds feel special. It could be a long lunch or a gourmet dinner with just their couple, or with their witnesses, or even family [if numbers allow]."
While Waite speaks to a hopeful future for weddings of 2021, and predicts that many couples may choose to host larger, second wedding celebrations, her priority is to make each and every couple she marries have their moment to shine, and to bring a ceremony to life that is as authentic and genuine as the couple before her. "I think it's important that I [always] take care of my couples, letting them know that I am there for them, and that I will continue to make their wedding day special, no matter what is happening in the world around them."
EMMA STEPHENS – Owner Of By Country Or By Sea
Being a self-proclaimed romantic at heart, it was after Emma Stephens successfully planned her own entire wedding on a budget that she began her career as a wedding stylist, with the desire to show couples how amazing their day could be, with a budget of any and every size. With her days spent curating impeccable wedding styling with furnishing, props and décor to inspire, Stephens coins the uniqueness of each wedding as one of the most enjoyable aspects of her job. "Each wedding is uniquely different, and each one holds its own key features depending on the couple and their style… it is certainly always busy!" she explains.
The implications of the pandemic have seen By Country or By Sea having to reschedule and rebook numerous weddings at a later date, with many couples uncertain about when they will be able to officially wed. "COVID-19 has impacted the entire wedding industry financially, due to postponements or cancellations because of the uncertainty [regarding] how long this virus will be among us," Stephens notes. Small weddings have certainly had their time in the limelight during 2020, with Stephen adding that many couples who initially planned 'big weddings' have instead opted for a more modest celebration, "due to the number of people allowed to attend". For those that have had to postpone their celebration, Stephens' advice is simple; hang in there – because your wedding will be worth the wait. "Your day will come, and I'm sure it will be bigger and better than you ever imagined," the stylist affirms.
For weddings of 2020 and into the future, Stephens recommends couples invest and allow for a videographer within their budget – meaning the memories and happiness associated with the day is preserved for generations to come. "Not only can you then revisit your special day time and time again, but what better way to share your day with those that couldn't be there," she explains. Family and friends who missed out on seeing the wedding in person can still feel part of the event when watching it in glorious high definition. "Have a big celebration post COVID-19, and watch your wedding day on a big screen with those dear and near to you."
Looking towards the future, Stephens is full of optimism that 2021 will be a year brimming with weddings and ample time spent with loved ones, hypothesising that since months of lockdown, "gatherings of family and friends will become more treasured now and into the future". "I hope 2021 and beyond will flourish and see plentiful bookings of love and celebration," Stephens says. "COVID-19 has put things into perspective – I believe many of us have realised what is really important in life, and not to take things for granted."
JODIE CARUANA – Principal Artist At JC's Hair And Beauty
Fascinated with hair styling from a young age and a self-appointed perfectionist, Jodie Caruana's transition into hair and makeup artistry was a natural progression, stemming from a hairdressing apprenticeship, to gaining speciality skills in formal hair styling and makeup, to Caruana even studying makeup artistry in L.A. "Makeovers and glamorizing people became my passion – and weddings are the epitome of this," she explains. Having
also worked in the training and educational side of makeup, as well as running bridal makeup courses, Caruana is no stranger to creating the perfect wedding day look.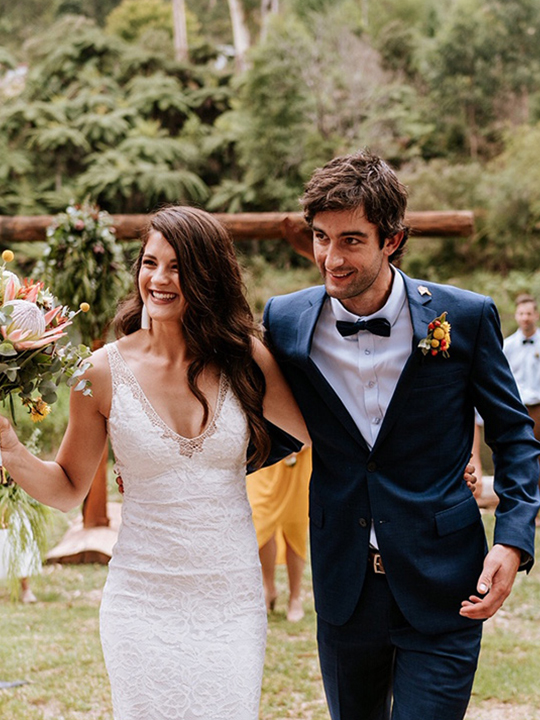 Prior to 2020, typical wedding prep for Caruana and her team would involve the bride undertaking a hair and makeup trial, helping to minimise stress and save time when the big day arrives. "This way if we need to incorporate hair extensions or work on a skin treatment leading up to the wedding day, we can set a program and make sure your hair and skin is at its optimum best," she affirms. On the day of the wedding, Caruana and her team usually arrive early to begin the hair and makeup process, allowing enough time for her team to "make up all the beautiful faces, before dressing and finishing the hair". Not to mention also placing the veil on the bride's head, which Caruana dubs as her favourite part of the entire getting ready process.
With several months of lockdown and restrictions throughout 2020, Caruana describes the beauty industry as being "virtually at a standstill" throughout many moments of the year. "Whether it is receptions centres, photographers, hair and makeup, flowers… we have all had to accept cancellation, and [remain] hopeful for the reschedule bookings to go ahead." For weddings that are able to go ahead, careful preparation to ensure the day remains COVID-safe is a must. "Ensure that all health and safety protocols are met. This includes asking the questions recommended by the health department to make sure that everyone involved [in the wedding] is COVID-safe," she says.
Caruana sympathises with couples that have had to postpone their celebrations throughout the year, reassuring them that "the wait will be worth it". "It will happen – we will get there," she advises. When considering nuptials of the future, Caruana is hopeful that 2021 will see weddings being bigger and better celebrations than ever, brimming with love and joy. "I truly hope that during 2021 we can see some sort of normalcy back into our industry, and that people regain the confidence to have glamour back in their lives," the hair and makeup artist says. "I know I look forward to the happy faces of family celebrating love."
AMANDA WEBB – Owner Of Ballara Receptions
Situated among the glorious greenery of Eltham, Ballara Receptions began as a dream, and came to life as a partnership between Amanda Webb's parents, her partner and herself back in 1987. Now the owner of the unmissable wedding and reception venue, Webb's retail and customer service background allowed for an easy transition into the role, especially with her passion for the hospitality industry. Finding the perfect venue space however, took some time. "We started looking for a reception centre to purchase, and after months of looking we couldn't find anything suitable," Webb explains. "A picturesque acreage of land was recommended to us, and we made the crazy decision to build a function centre from the ground up," she adds. "Thirty-three years later we are still a family-owned and -operated business!"
Describing her role as somewhat of a "jack-of-all-trades", Webb's work includes giving a tour of the grounds and venue to couples, attending and arranging all of the necessary planning appointments, booking suppliers for couples and of course, executing the wedding when the big day itself arrives. "We are with the couple the whole way through," Webb explains. "We also turn into mini-florists, hair stylists, MCs and more. You name it, and we have pretty much done it to make sure the wedding goes off without a hitch for the couple."
With the unexpected events and challenges of 2020, Webb and her team at Ballara Receptions have gone above and beyond to ensure safe practices while riding the unpredictable waves of a global pandemic. For the couples that have been able to marry, the staff have had to "change the layouts and configuration of seating for ceremonies, purchased sanitiser in bulk and have sanitiser machines stationed at all points". When inspections of the grounds were halted amidst lockdown, the team successfully adapted and "changed options for couples by offering Zoom meetings, and getting a 3D virtual tour done", enabling the couple to click through the spaces and feel like they are walking around the venue. "We want to make sure the couple, guests, suppliers and our staff all feel comfortable and happy in the space, so that they can enjoy the day and experience," Webb notes. "It is all about adapting and connecting with people in different ways, so that everything is just as special for them as before."
Ballara Receptions has also played host to numerous 'micro-weddings' throughout the year, which although may not be exactly what some couples had in mind, certainly creates an intimate and personal atmosphere, highlighting the true meaning behind any wedding – the love between partners. "Having such a small ceremony and group makes it all feel so much more intimate, and the connection between you and everyone can be felt so strongly, which is a really amazing feeling," she details. Advising couples to stay strong and continue checking in with one another, some of Webb's strongest suggestions are to chat to trusted suppliers regarding a range of date options, and to remember that you are getting married to the person you love – which is something incredible in itself. While the impacts of the pandemic have been felt by all in the wedding industry, Webb remains optimistic for a 2021 of recovery. "At the end of the day, we really are 'all in this together' so network and support each other – see how you can help others within this amazingly talented community."
The challenges of 2020 have been unlike any other. Serving as a reminder that at the very core of these unions is love, the strength and resilience of the wedding industry is ever inspiring – prompting us that by working together going forward, future weddings are looking brighter than ever.